A remake of classic '80s TV soap Dynasty has been given the green light in the US. And while there's no news of a return for Joan Collins's Alexis yet (we live in hope), here's what we do know about the reboot.
1. Girl power
Two of America's wealthiest families, the Carringtons and the Colbys, are still at war – but this time, the story will be told from the perspective of two women in the thick of it all – Fallon Carrington (played by Elizabeth Gillies), daughter of billionaire Blake, and her soon-to-be stepmother, Cristal.
But how many of the famous Dynasty catfights will we witness?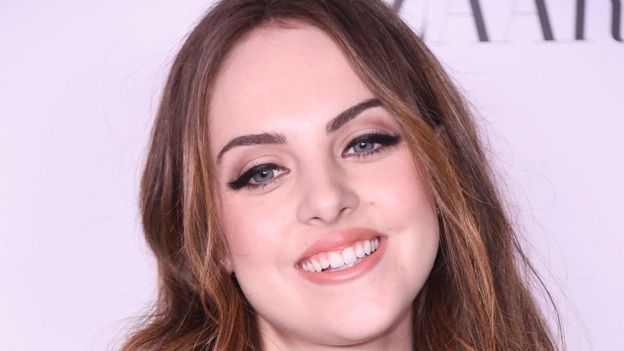 2. It's all about diversity
Linda Evans famously played Krystle in the original – this time around, Cristal (spot the spelling change), is a Hispanic woman marrying into a wealthy family. She will be played by The Vampire Diaries' Nathalie Kelley.
And billionaire charmer Jeff Colby, played by John James in the '80s series, will be played by Nigerian-born actor Sam Adegoke this time around.
Blake's chauffeur, Michael Culhane, will be played by African-American Hit the Floor star Robert Christopher Riley, while Empire's Rafael de la Fuente, who hails from Venezuela, will also have a regular role.
3. It's made by the team behind Gossip Girl
Gossip Girl creators Josh Schwartz and Stephanie Savage are bringing the series to US channel CW. The pair have hooked up with Revenge writer/producer Sallie Patrick and the original Dynasty creators, husband and wife team Esther and Richard Shapiro.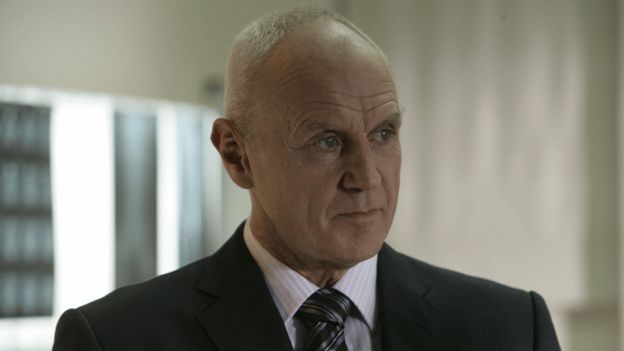 4. Everybody loves good Neighbours
Yes, he might be known as The OC and Ugly Betty's Alan Dale in the US these days… but us Brits still prefer to remember him as Jim Robinson from Neighbours.
Alan will be starring as the Carrington's butler, Joseph Anders, played by the late Lee Bergere in the original. Fans will remember it was Alexis who hired him when she was married to Blake.
Anders was fiercely loyal to Alexis when Blake remarried – maybe they're still in touch?!
5. The actors are VERY excited
Several of them have taken to social media with their reactions.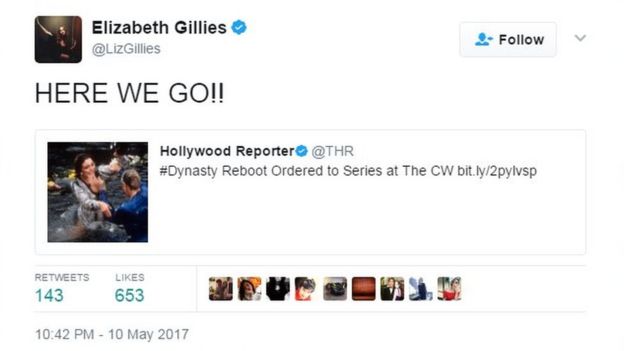 The cast have clearly bonded during while filming the pilot episode, with Rafael posting a video of himself and some of his fellow Dynasty actors singing along to Tracy Chapman's Fast Car..
Alan Dale was also in a celebratory mood as he hit the big 70.
And Robert Christopher Riley posted an emotional image on Instagram sharing the moment he told his mum the Dynasty news. Everybody say, "Ahhhh."
6. When we'll get to see it
There's no exact transmission date yet and it's not yet known if it'll be broadcast in the UK. But it's slated for the 2017/18 season in the US, which means it should be with us by the autumn. We say, the sooner the better!
Read more at BBC.co.uk