Pubs and restaurants serving outside can reopen as planned next Monday, along with non-essential shops, gyms and hairdressers, as England's lockdown is further eased, the PM has said.
But Boris Johnson urged caution, saying: "We can't be complacent."
Officials were examining the potential role of Covid status certificates, he told a Downing Street briefing.
Pilot events will take place from mid-April to trial the system, with later events checking vaccinations.
Speaking in Downing Street, the prime minister also said the government was "hopeful" international travel could resume in the next stage of lockdown easing on 17 May, but cautioned against the effects of the surge of coronavirus in other parts of the world.
He said the government would set out "well before 17 May what is reasonable" and aim to give the aviation industry "as much notice as possible".
It comes as the government has published an update on a series of reviews into Covid certificates, the safe return of mass events, international travel and social distancing rules.
In the document, the government says it cannot yet confirm international travel can resume on 17 May "given the state of the pandemic abroad", and advises people not to book summer holidays abroad "until the picture is clearer".
It also confirms further details on a risk-based "traffic light" system for foreign travel will be published in a report later this week.
On Covid status certification, the paper says such a scheme could have an important role to play both domestically and internationally and "is likely to become a feature of our lives until the threat from the pandemic recedes".
A certification scheme could record whether people had been vaccinated, recently tested negative or had natural immunity and is seen as a possible means of enabling mass-audience events to take place in the future.
More than 40 Conservative MPs have signed a cross-party letter opposing the use of vaccine passports for access to jobs or services, with critics calling such a move "discriminatory".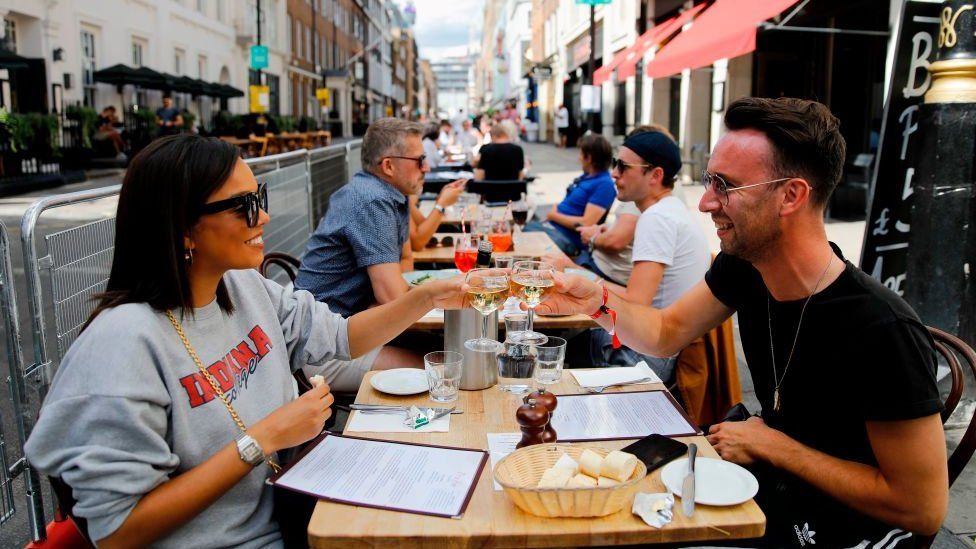 The BBC's political correspondent Iain Watson said vaccine passports had managed to "achieve the remarkable political feat of uniting a former Labour leader and a former Conservative leader against them", as he asked the prime minister if there would be a vote in Parliament on their introduction.
Mr Johnson said the question of a Commons vote was "taking too many fences at once", and that the government needs to work out its proposal.
He stressed that certification would not be introduced either for the 12 April lockdown easing or for the planned further changes from 17 May that would see pubs and restaurants serving customers indoors.
But he said: "The idea of vaccination status being useful for international travel is something that all countries are looking at. I do think that's going to be part of the way people deal with it and we need to think about that."
The government's review said that public transport and essential shops and services would never require Covid status certification, but it could play a role in allowing people to return to theatres, nightclubs, and mass events such as festivals or sports fixtures.
It is also possible that requiring customers to prove their status could "play a role in reducing social distancing requirements in other settings which people tend to visit more frequently" such as pubs and restaurants, the document states.
The government said this would be considered in consultation with the industry, and that businesses should continue to plan to reopen in line with the latest guidance.



The further easing of lockdown was expected given the data is perhaps as positive as it possibly could be.
Hospital admissions and deaths have fallen sharply. Even infection rates – that some warned would start rising quickly with the reopening of schools – have continued to drop.
With the vaccination programme going well, the UK is certainly in a strong position compared to most.
What's more, the steps being taken from 12 April are not considered particularly high risk.
It's the return of indoor mixing in May that is more of a worry – and then how to allow foreign travel and big events like live sport and music concerts.
The prime minister was careful not to make any promises on these.
Government modelling suggests a resurgence of hospital cases and deaths is still "highly likely" in the future.
That's because the vaccine does not work for everyone and not all those in the at-risk groups have come forward for a jab.
There's good reason to believe this resurgence will be limited – perhaps no worse than a bad flu season – but it's the possibility it could be much worse that is causing the concern.


Other changes to the stage two easing of England's lockdown from 12 April include:
Hospitality venues can serve food and alcohol to customers sitting outdoors, with no curfew
Spas can reopen, as can zoos, theme parks, drive-in cinemas and drive-in performances events
Members of the same household can take a holiday in England in self-contained accommodation
Public buildings such as libraries and community centres will also reopen
And other close-contact services such as beauty and nail salons can reopen
Weddings attended by up to 15 people can take place
The number of care home visitors will also increase to two per resident
Speaking alongside England's chief medical officer Prof Chris Whitty and chief scientific adviser Sir Patrick Vallance, Mr Johnson said the changes could go ahead due to "our collective efforts" and were "fully justified by the data which show that we're meeting our four tests for easing the lockdown".
He also said there was nothing in the present data to suggest the government would have to "deviate" from its planned roadmap out of lockdown, with "things still seem set fair" for the next step along on 17 May.
But he added: "We can't be complacent, we can see the waves of sickness afflicting other countries and we've seen how this story goes."
He encouraged people to use free NHS tests "even if you don't feel ill" as part of a drive to identify cases without symptoms.
The lateral flow kits, which can provide results in around 30 minutes, will be available for free at testing sites, pharmacies and through the post.
Meanwhile, Prof Whitty warned "this virus will be with us for the foreseeable future", although he said that science would over time "de-risk it" with vaccines.
And Sir Patrick suggested the pandemic could result in long-term changes in behaviour.
"Things like hand hygiene and the fact people will take time off if they get ill and stay at home rather than going into work, testing to know if you've got it or not," he said.
"Those sorts of things are likely to be important baseline measures going forward."
www.bbc.co.uk