If the first Test in Abu Dhabi a couple of months ago taught us anything it is that when it comes to the fifth day of a seemingly dead match, nothing should be taken for granted. By the time stumps are drawn on the final day, this second Test should have long since shuffled off this mortal coil.
Once England had racked up 629 for six, there was, in theory, little for South Africa to do beyond batting to save the game, and, through the immense diligence of the captain Hashim Amla, that much they have done. Amla compiled the fourth double century of his career over more than 11 and three-quarter hours – with the assistance of AB de Villiers, Faf du Plessis, and, delightfully, in the latter part of the day Temba Bavuma, with his maiden Test hundred, and Chris Morris (69).
Then though, unlikely as it should be, comes the doomsday scenario that will always haunt England and their supporters, the Adelaide spectre, for having made much of the running in the match it is they who are the only side that can lose, hoist, in a way, on the petard of their own heady first innings run-rate.
South Africa were two runs shy of the England score, Bavuma having completed his hundred, when Amla called in his batsmen, an excellent tactical decision that left England a possible seven overs to bat having spent 211 overs in the field. In the event they faced six, which Alastair Cook (eight not out) and Alex Hales(five not out) survived without alarm, England reaching 16 without loss, a lead of 18.
The success of Bavuma is a heartening one, not just for a young batsman justifying the faith shown in him, but coming at a time when the South African quota system debate is rumbling on. The 25-year-old was born in Langa, a township outside Cape Town, and is the first black player to be selected for his country as a frontline batsman. Although he did not score runs in Durban, he had given some indication of his potential in the first Test, where he just looked the part, but here he played a sublime innings. Watch him closely and you will see someone rock-steady at the crease, with no trigger movements, but perfectly balanced: in defence, he gets his nose right over the ball. He simply looks a batsman. Clearly he is an excellent judge of length as all small batsmen must be, and he is strong on the back foot, particularly when it comes to pulling the pacemen and forcing them away on the offside.
Ben Stokes was not overly enamoured with that but diminutive players make it difficult for bowlers to find a length: a normal length is too short, but over compensate and they are quick on the drive. Bavuma drove the ball beautifully from pace and spin alike, hitting 16 fours in his unbeaten 102 from 148 balls.
What a strange innings this had been for South Africa though. For the first 163 overs of it, three wickets had fallen, of which one was a run-out. That England then, armed with the third new ball, managed to take three more in the space of four overs for 10 runs, tells as much as anything about the ball itself and the manner in which it fails to maintain its hardness beyond the first 15 to 20 overs. This is a topic discussed here before and due for revisiting soon, for the poor quality of the Kookaburra ball is responsible for much of the opprobrium heaped on so-called dead pitches. When, with the third new ball, Stokes sent a bouncer soaring over Jonny Bairstow's head, it had not pitched on a moribund surface.
Amla had faced 476 deliveries without being dismissed before pushing forward at the next, from Stuart Broad, and sending a thin inside edge on to his stumps. It was a weary shot and Amla had every right to be weary, for this was an immense effort from a man under pressure as leader and batsman. His double century, reached just before lunch, with 27 fours, had not been without blemish, having three times offered difficult or even half-chances, the last of them to short leg a couple of balls before his dismissal, but it showed immense character.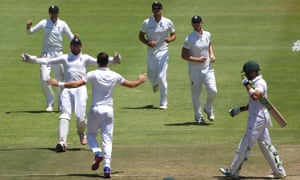 At this point, his partnership for the fourth wicket with Du Plessis, was worth 171, following that of 183 for the previous wicket with De Villiers (South Africa had not registered a single century stand in the whole of 2015). But then Du Plessis, who had batted for five and a half hours in making 86 considerably less memorable runs, followed in the next over, edging Jimmy Anderson, round the wicket, to gully where Stokes took a low catch well. Three overs later, and a third wicket had fallen, that of the keeper Quinton de Kock, who, apparently intent on upping the tempo of the day, tried to take on Broad's bouncer but mistimed it instead straight to Anderson at backward square leg.
It was the last success England were to have until deep into the final session, when Morris drove Steven Finn to Joe Root at short extra cover. The relief was palpable for catches, none of them simple but all catchable, have been missed throughout the innings.
Besides Amla's half-chance, three more went down frustratingly for the bowlers: when he had 22 Morris drove a sharp return catch to Finn, who could not quite cling on in his follow through; when, during an excellent spell from Broad in which he gained a little reverse swing, Bavuma, then 77, edged low to Bairstow; and finally Morris again, this time on 57, and off Broad once more, when he edged to Root, standing close at second slip, who, helmeted, could not hang on. In conditions such as these , bowlers need all the help they can get.