It is time, but the moment has been prepared for. With geekdom ablaze as San Diego Comic Con kicks off, it's time to stoke up the fires for Doctor Who series nine/35, and for those of us not in California, we've been granted an air date of 19 September, and an impressive first trailer.
A Doctor's second run tends to be the highlight of their reign, the time when they're solidified in the role. As Moffat has said, it's no longer the novelty of "Peter Capaldi playing the Doctor", it's just "the Doctor". And, after last year's elongated awkward first date, this Doctor and Clara are enjoying their glory days, comfortable, finally, in each other's company. "Having the time of their lives," says the BBC press release breathlessly, "the pair meet new and old monsters, and go on a journey that takes them to deadly alien planets, creepy underwater bases, Viking villages, a global Zygon uprising, and leads them through hidden alien dens, to the very end of time itself." We've also been told that the Doctor "is about to make a mistake that will have cataclysmic repercussions".
Capaldi says of the new series, "soaring through all of time and space, series nine sees the Doctor throw himself into life with a new hunger for adventure. The cosmos is there for the taking, thrilling and epic and enticing, and his to play in. But he's almost reckless in his abandon. It's almost like he's running from something, something that, if it ever catches him, will turn his life upside-down."
Indeed, as much as Capaldi's Doctor is set to lighten this year, the edge is being too softened too much. "Every time I think it couldn't get more extraordinary, it surprises me," he ominously voice-overs. "It's impossible, I hate it, it's evil, it's astonishing. I want to kiss it to death."
Let's take a moment to savour that delicious line, "I want to kiss it death", before enjoying our annual game of trailer-dissection roulette. (Last year, I became convinced that the Robot of Sherwood was one of the Robots of Death from 1977's The Robots of Death, so go with me here.)
Everything is glimpsed in the shadows, nothing explained, which, of course, is the point. There is mysterious hieroglyphic code on an eyeball. There is a hand struggling to fight its way out of some soil. There is something with two faces. There is something that looks a bit like the Whispermen from The Name of the Doctor but probably isn't. There is somebody that looks like a male version of one of the Sisterhood of Karn, but almost definitely isn't. There are those robotic tractor-looking things called the Mire, and they're expected to feature in a story alongside Vikings. There is Missy. There is Clara wearing one of those cheap orange spacesuits they always use. There is the Doctor looking natty in shades with an electric guitar.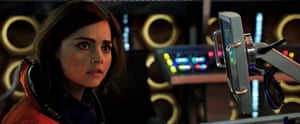 The biggest tease looks like this year's equivalent of the Missy mystery and will be the identity of whoever Maisie Williams is playing. At the trailer's end, the Doctor greets the young girl, astonished and clearly familiar with her, as she teases: "What took you so long, old man?" Williams is expected to feature in the loose two-parter, The Girl Who Died and The Woman Who Lived, but all anyone will reveal of their guest A-lister is that she will "challenge the Doctor in unexpected ways". (I'm putting a tenner on it being a young Helen A from The Happiness Patrol.)
Mysterious women continue to play a big part this year. Although not glimpsed in the trailer, we know that Ingrid Oliver is back as UNIT operative and the Doctor's superfan Osgood (she's never been given a first name), despite having been flung from an aircraft by Missy last year, so what gives? Fans will remember that her first appearance, in the 50th, saw humanity left to broker a peace deal with the shapeshifting Zygons about how to co-habit the Earth. So, technically, there's no way of being certain right now who among us is human and who might be a Zygon. It then follows that we have no real way of knowing whether it was the real Osgood or a Zygon imposter who met that sticky end. But we do know that the Zygons return in that story as well.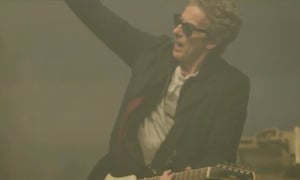 And back, of course, is Missy, the female incarnation of the Doctor's murderous frenemy brought to spectacular life by Michelle Gomez last year. The trailer doesn't give much away about her schemes, but we know she returns in the opening two-parter, The Magician's Apprentice and The Witch's Familiar. Missy will continue to develop as the Doctor's nightmare stalker by way of his best friend. Gomez told the Comic Con audience: "It's her life's purpose to chase after the Doctor and make him understand, 'No, you started it, I'm right. You're getting in the way of me trying to destroy the universe, which I really have to do.'"
Lots to pick over, and just two months to go. But perhaps the most exciting teaser of all comes in a "Notes to editors" addendum at the bottom of the press release: "For the new series, designer Michael Pickwoad has introduced brand new roundels to the inside of the Tardis." If you have no idea what I'm talking about here, then trust me, you really don't want to. There's still hope for you.
Source: https://www.theguardian.com