UK retail sales partly recovered in May, driven by DIY stores and garden centres reopening amid the lockdown.
The amount of goods sold last month increased by 12%, in comparison with record falls seen in April, according to the Office for National Statistics.
Sales were boosted by a 42% rise at household goods stores, such as hardware, furniture and paint shops.
Despite the rebound seen in May, retail sales still remain well below pre-lockdown levels.
Non-essential retailers in England and Northern Ireland have, however, since been allowed to reopen.
Most shops in Scotland are to reopen from 29 June. Non-essential retailers in Wales will be told they can reopen from Monday, the first minister is expected to announce on Friday.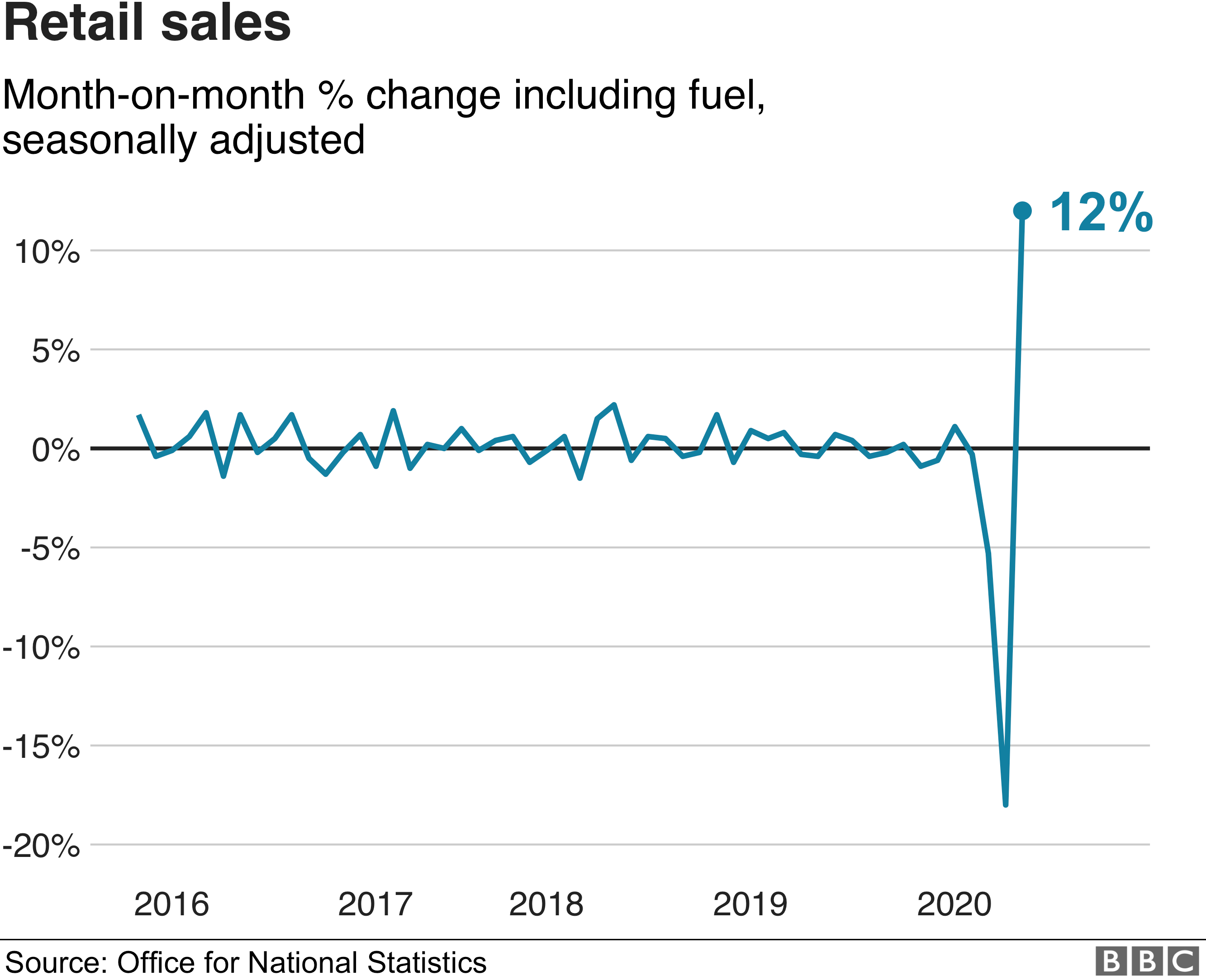 Non-food stores saw the biggest increase in sales last month, the Office for National Statistics (ONS) said, with DIY sales providing a bright spot.
"According to retailers in this sector, consumers appeared to be carrying out home improvements while spending more time than usual in their homes," the ONS said.
However, despite the May boost, sales overall were still down by 13.1% compared with February, before the coronavirus lockdown measures were introduced.
In the three months to May, sales fell by 12.8% compared with the previous three months, the fastest quarterly decline since records began in 1996.
Samuel Tombs, chief UK economist at Pantheon Macroeconomics, cautioned that the "overall consumer picture remains bleak".
"May's recovery in retail sales should not be interpreted as a sign that the economy is embarking on a healthy V-shaped recovery from Covid-19," he said.
"Naturally, spending on goods will recover faster than on services, which usually require human contact and remain largely unavailable."
---

May's retail sales were always going to be better than the off-the-charts collapse in April, when the full force of the lockdown was underway.
The decline is now reversing. But it's far from clear when retail sales will return to pre-Covid-19 levels.
When non-essential shops re-opened in England on Monday, with lots of queues for some of the most popular stores, footfall was still far lower than normal. And with social distancing in place, retailers will have to limit customer numbers where necessary.
Fewer customers will mean fewer sales. With unemployment set to rise and the various government support schemes starting to ebb away, many people's finances will start to come under real pressure.
---
Shopping habits
Online sales rose to their highest proportion on record in May while consumers stayed at home. They accounted for 33.4% of total spending, compared with 30.8% in April, the ONS added.
Lynda Petherick, head of retail for Accenture UK and Ireland, said: "Given the wholesale shifts in consumer behaviour these last few months, it would be optimistic to assume shopping habits will return to normal in the immediate future.
"As the proportion of shoppers buying online continues to soar, the individual retailers who best recover in this new environment will be those who can quickly adapt to accelerating trends, such as the shift to ecommerce," she added.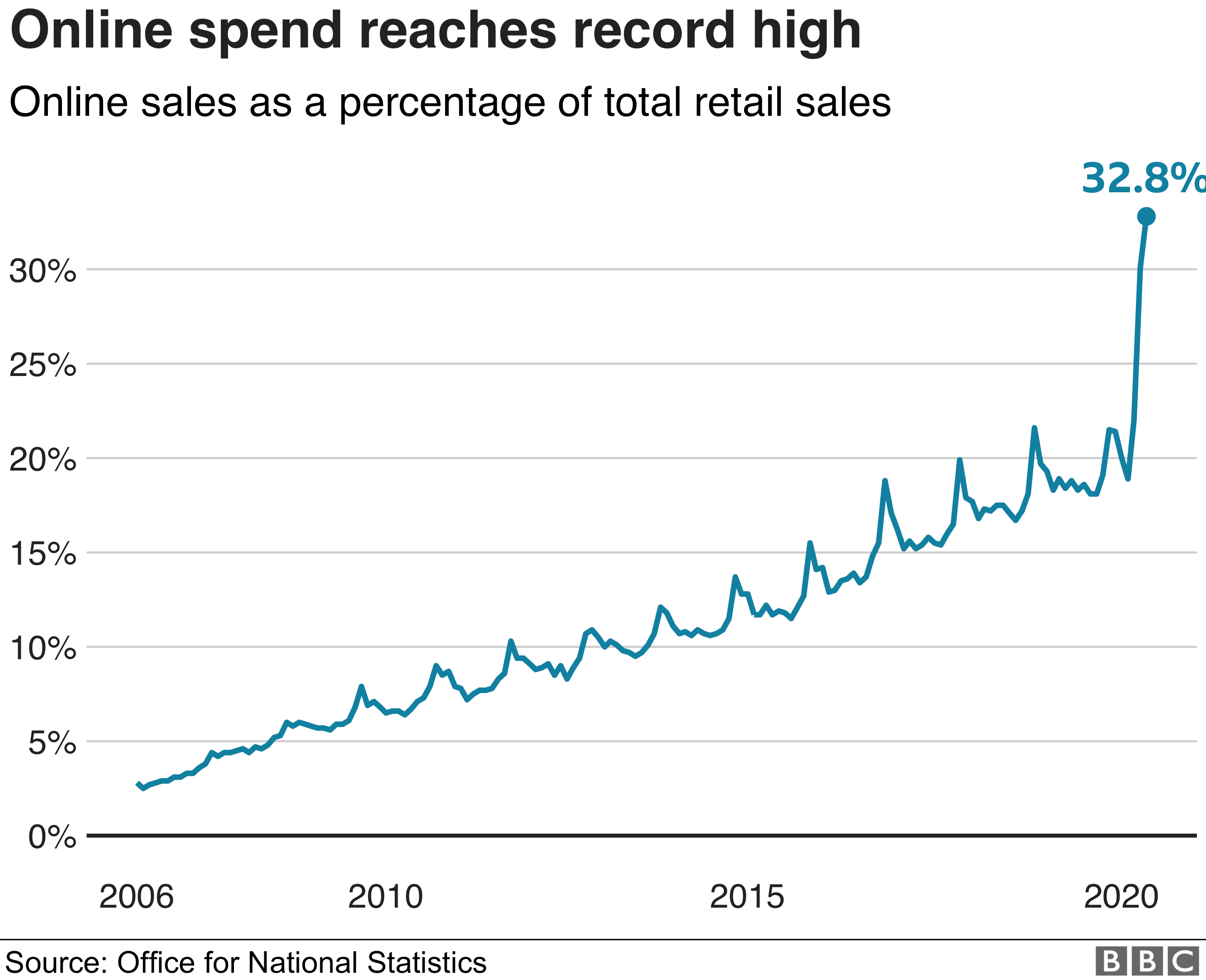 Peter Cowgill, executive chairman of JD Sports, told the BBC's Today programme that the chain's online sales had "gained a lot of momentum" in April and May.
He added that he hoped to see the same "kickback" in stores after non-essential retailers in England were allowed to reopen on 15 June.
"I think that as consumer confidence continues to grow though, that the level of footfall will grow with it," Mr Cowgill added.
---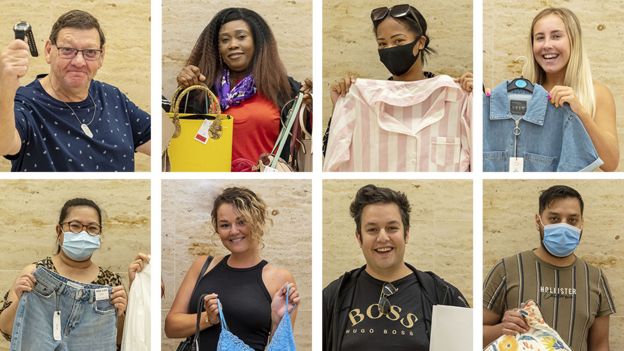 On Monday, stores across England selling non-essential goods opened their doors for the first time since the lockdown began.
Shoppers arrived early to centre:mk in Milton Keynes. Some were picking up goods they had been waiting months to buy, such as baby clothes and home furnishings. Others were there for the sales. These shoppers told us what they bought – and why.
---
Action Fraud warned on Friday that customers should take additional care when shopping online during lockdown.
Since shops were forced to close due on 23 March, the UK's reporting centre for fraud has received reports of online shopping fraud totalling £16.6m in losses.
However, separate research suggests that shoppers might be feeling anxious about their return to the High Street.
More than half of UK customers expect they will now go shopping less often over the next one or two years, according to a survey of more than 1,000 people by accountancy giant EY.
Silvia Rindone, partner in consumer product and retail at EY, said that retailers "must do all they can to help alleviate customers' concerns".
"People need to know the shopping environment and communal space is safe and that the brand is taking health and safety as seriously as they are."
www.bbc.com