Christmas Eve, and old Mr Havisham is dead. His daughter, Amelia (Miss Havisham) and her half-brother Arthur are doing the stuff people do when a parent dies – mourning, funerals, wills etc, the last of which doesn't go well for Arthur, inheritance-wise. Ebenezer Scrooge and Jacob Marley (not dead – not yet), the Wonga of their day, are entering into the spirit of the season of goodwill by pursuing debts, even from the old fella at The Old Curiosity Shop whose granddaughter Nell is dying. Though later Nell, watched over by Mrs Gamp, doesn't die. The poor – Bob and his Cratchit family etc – prepare for a wretched Christmas in bleak but cheerful poverty. An urchin boy scuttles off with a message for Fagin, a demand for the services of Nancy, about which her bit of rough Bill Sikes is not best pleased …
What the Dickens? Dickensian (BBC1, Saturday), that's what. Tony Jordan has taken a whole bunch of Dickens characters from their novels and put them into something else. So many Dickens characters, many more than the above. Also the Bumbles, Mr and Mrs; Compeyson shows up, handsome and criminal; in one house – the Bleak one – the Barbary family live; Mr Pickwick's down the Queen Vi … I mean the Three Cripples. It's like EastEnders meets A Christmas Carol meets Great Expectations meets Oliver Twist meets Bleak House meets Our Mutual Friend, and I've certainly missed some out. Meets Agatha Christie, too, because here's another body – Marley's this time – coshed over the head and left lying in the snow. Inspector Bucket's playing Miss Marple, with some forensic help from Mr Venus the taxidermist (CSI 19th-century London). It's not going to be easy to find out whodunnit though; as Scrooge says, Bucket's problem "will not be discovering who hated Jacob Marley enough to kill him, but rather finding someone who didn't".
The set is beautiful, and there are showy Dickensian performances from a starry cast. It's clever, certainly, and must have been a labour of love, unpicking all these people from their works, weaving them into something else. I don't doubt Jordan's understanding of Dickens and his characters: he's probably the most Dickensian television writer there is. (There's a but coming, can you tell?)
My problem is with the whole exercise – starting with the characters, someone else's, and then figuring out what they're going to be doing. Are things not better if they grow together, as one, characters, stories, style, themes etc? And the problem with these particular characters is that the new thing is never going to be as good as the thing they came from. Plus there are too many of them, far too many, all at once, all wearing hats. I've read all of the above novels (by "read", I'm including "seen on the telly", obviously). And I'm having real problems figuring out what the bleedin' 'ell is going on. It's clear like the fog down by the dock where Fagin lives.
It – the fog – does lift a bit; by the end of the second episode (of 20! that's a big ask), I'm a bit less fuddled. And it begins to pick up momentum of its own. But I wonder how many of the viewers who set off will get this far.
Also starry and beautifully done, but less muddled: And Then There Were None(BBC1, Saturday and Sunday). Well, there are only 10 of them for starters, in the art deco house on Soldier Island off the coast off Agatha Christie's Devon. Then nine …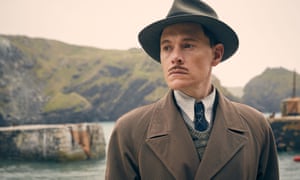 In some ways, it's modern. Not just the cocaine, the swearing, the graphic violence and abundant claret, but there's also a fashionable gloominess and an oppressive psychological tension more often found in thrillers from Scandinavia than in AC television adaptations. New genre, perhaps: West Country noir?
But it also manages to be loyal, not just in plot but in spirit as well. I think the queen of crime would approve. I certainly do. Mass murder rarely gets as fun as this.