Greater Manchester and parts of Lancashire will receive extra help to tackle a rise in the Delta variant.
Health Secretary Matt Hancock said a "strengthened package of support" would be provided to boost Covid vaccinations and testing.
It will include military support and supervised in-school testing in the areas hardest hit.
Greater Manchester and parts of Lancashire have been identified as places where the so-called Indian variant, now named the Delta variant by the World Health Organization, is spreading the fastest.
As part of the government guidance, residents are also being encouraged to get tested twice a week and continue to work from home if possible.
Schools can also reintroduce face coverings in communal areas if advised to do so by directors of public health.
Mr Hancock said the package was based on "what's working in Bolton" which saw its infection rates drop after being offered enhanced support.
"We know that this approach can work, we've seen it work in south London and in Bolton in stopping a rise in the number of cases," he said.
"This is the next stage of tackling the pandemic in Manchester and in Lancashire, and of course it's vital that people in these areas – as everywhere else – come forward and get the jab as soon as they're eligible because that is our way out of this pandemic together."
The Labour Mayor of Greater Manchester, Andy Burnham, said people should be cautious and vigilant but should "carry on living their lives".
"This is guidance, it is advice to the public, it is not a lockdown, it is not a ban," he said.
"This is not about telling people to cancel their plans, it is asking them to be careful in setting any new ones, to minimise non-essential travel and that in our view is a sensible approach given the rise in cases."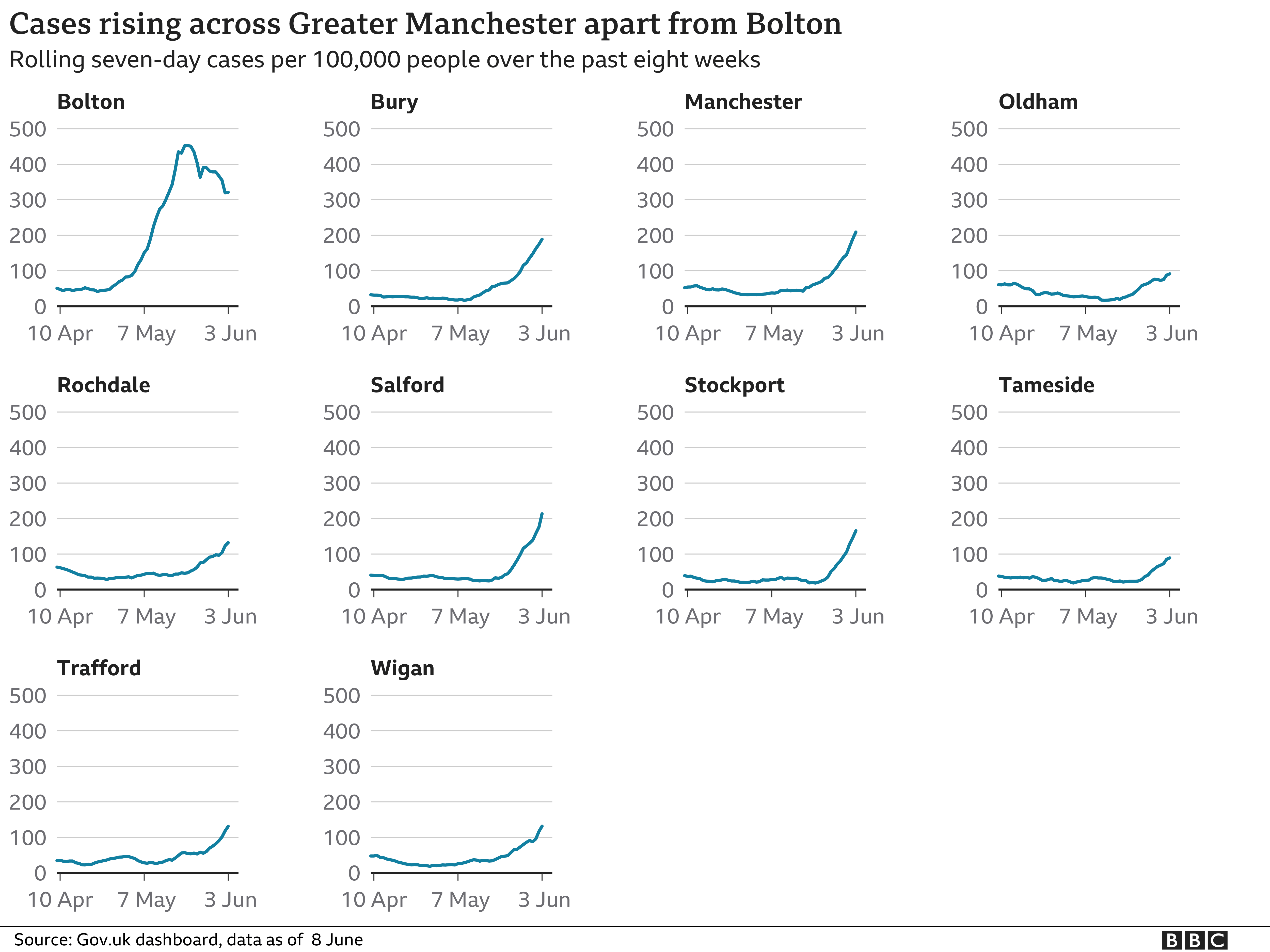 NHS North West medical director Dr David Levy said the vaccine rollout has had "a tremendous impact" on reducing the number of Covid cases.
But he urged anyone who is eligible for the vaccine to book their jab as "things are very different this time".
"What we are seeing is younger patients coming into our North West hospitals at the moment," he told BBC North West Tonight.


The tactics deployed in Bolton over the past month are now being seen as the template for how to curb the Delta variant.
When infection rates took off in early May the area was flooded with testing, while there was a big push on getting people to come forward for vaccination – the numbers receiving their first jab more than trebled in the space of a few weeks.
The result has seen a drop in infection rates – they are down by more than a quarter in the past 10 days – without the need to impose extra restrictions.
With other parts of Greater Manchester seeing big rises, the hope now is that the tactics will work on a wider footprint.
But these tactics have their limitations. At the moment the rise in cases in England is largely being drive by what is happening in the North West – more than 40% of all cases over the past week were in this region.
If other parts of the country start to see more significant rises, the approach becomes more difficult to pull off as resources become more stretched.

The new support and advice has been issued to all 10 boroughs in Greater Manchester as well as places within the Lancashire County Council area.
Those include Burnley, Chorley, Fylde, Hyndburn, Lancaster, Pendle, Preston, Ribble Valley, Rossendale, South Ribble, West Lancashire and Wyre.
Dr Sakthi Karunanithi, director of public health for Lancashire County Council, said Covid cases were "continuing to rise at a worrying pace".
He said the council had been pushing to extend the surge testing and vaccinations, which was already being rolled out in Burnley.
"The government has listened to our calls and has now agreed to provide Lancashire with enhanced support, which gives us more flexibility to fight this new wave of infections," he added.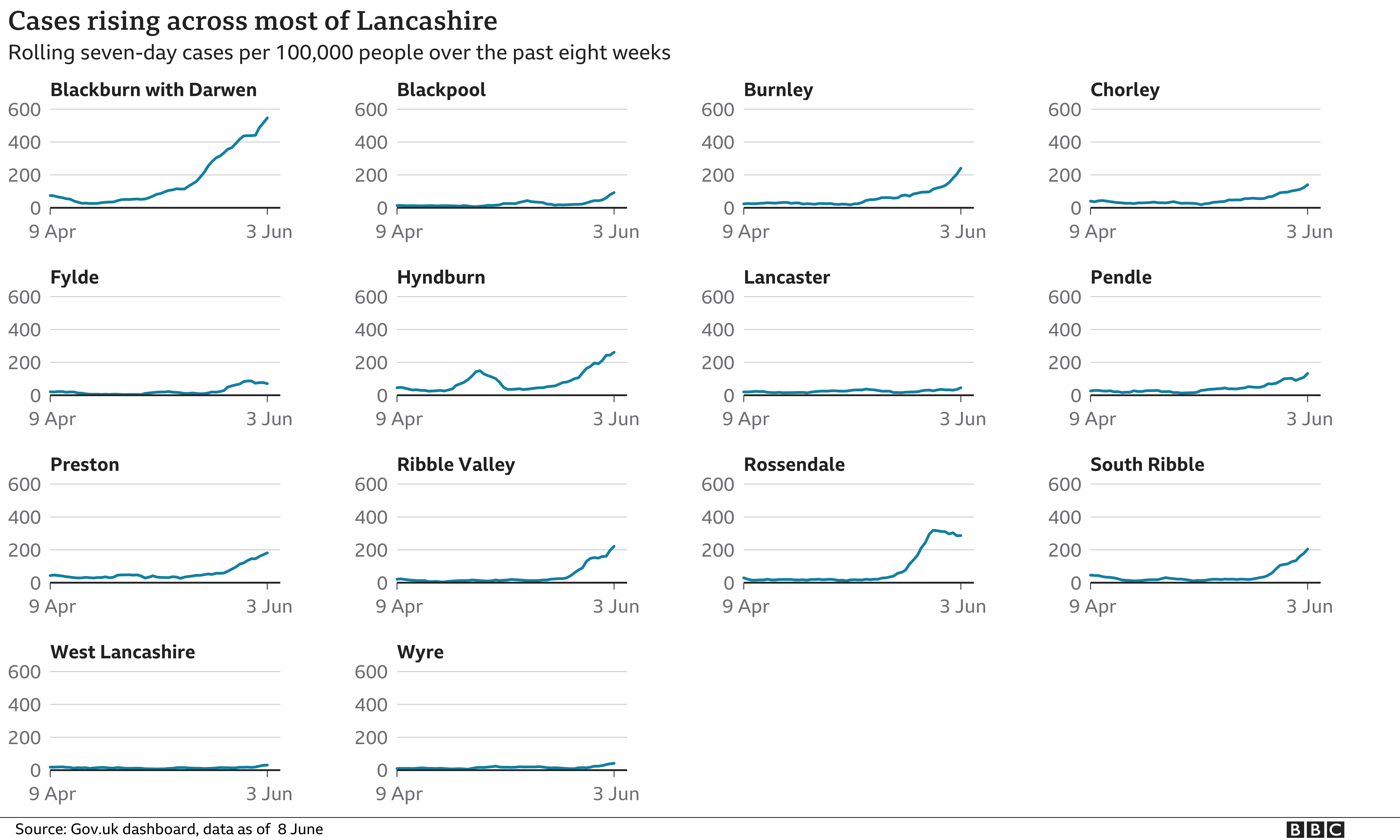 Latest government figures showed that 18 of the top 20 areas with the highest infection rates in England in the week leading up to 4 June were in Greater Manchester or Lancashire, with the neighbouring Cheshire East borough one of the other two.
Blackburn with Darwen had the highest rate with 556.5 cases per 100,000 people, while in second-placed Bolton and third-placed Rossendale the rates dropped to 320.3 cases and 310.6 cases respectively over the same period.
The other areas in the top 10 – Hyndburn, Burnley, Ribble Valley, Preston and South Ribble in Lancashire and the Greater Manchester boroughs of Salford and Manchester – all also saw rates rise.
A total of 5.7m people live in areas of England covered by the government's enhanced coronavirus guidance, which is the equivalent of 10% of the population.
Across the UK there have been a further 6,048 coronavirus cases and 13 deaths within 28 days of a positive coronavirus test, according to Tuesday's daily government figures.
www.bbc.co.uk