Advice for eight areas in England worst-hit by the Indian coronavirus variant has been updated after the government clarified that it was not imposing local restrictions.
The amended advice asks people to minimise travel into and out of Bolton, Blackburn, Kirklees, Bedford, Burnley, Leicester, Hounslow and North Tyneside.
Earlier advice had asked people to avoid non-essential travel altogether.
Bank holiday plans were plunged into disarray as a result.
Many people called off plans at short notice when that initial advice emerged without an announcement, and local leaders said they had not been consulted.
As well as minimising travel, people in the affected areas are being asked to meet outdoors and stay 2m apart from anyone in other households, wherever those things as possible.
The updated advice also refers people to their local authorities' Covid guidance and says anyone travelling to red or amber list countries should arrange "a testing or managed quarantine package".
Commenting on the updated advice on Tuesday evening, a government spokesperson said ministers wanted to "make it clearer we are not imposing local restrictions" in areas where the new variant was spreading.
"Instead, we are providing advice on the additional precautions people can take to protect themselves and others in those areas where the new variant is prevalent," the spokesperson said.
Among those considering cancelling plans as a result was Julie Suttar, from Aberdeen, who told the BBC on Tuesday that she had booked a non-refundable hotel in Leicester to visit family she had not seen for more than a year.
"I can't believe it, I've been on the phone to my sister, in tears. Where's this come from? Where's the notice?" she asked.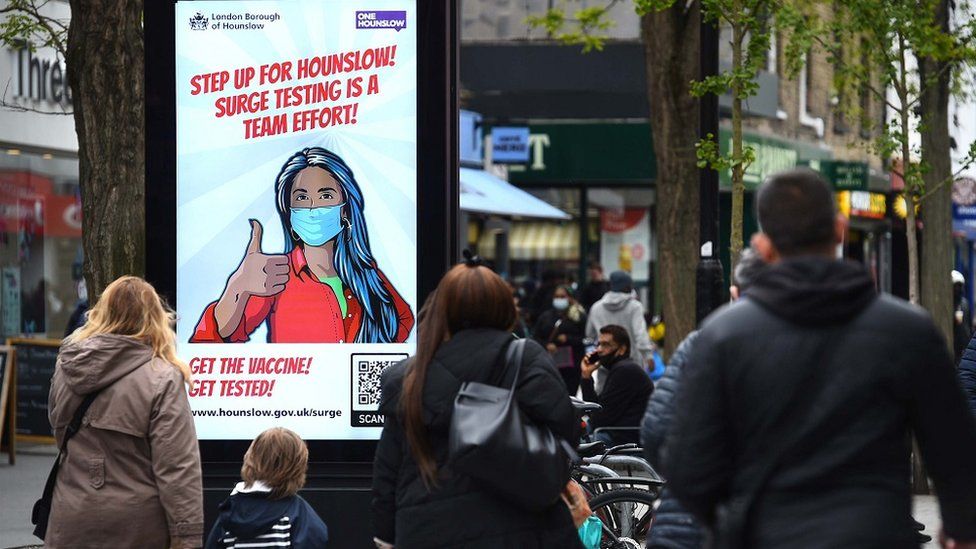 'No local lockdowns'
The uncertainty prompted a denial from Downing Street that it was imposing local lockdowns by stealth.
The prime minister's official spokesman said the government wanted to encourage the public "to exercise their good judgement", rather than issuing "top-down edicts".
Several of the local authorities affected by the new advice said they had not been consulted about it and only learned of its existence through media reports.
On Tuesday afternoon, local councils for the eight areas – which together represent more than two million people – emerged from a meeting with government officials and insisted there were no restrictions on travel in their areas and "no local lockdowns".
They said they were working to increase vaccination and testing – with Kirklees the latest area to announce door-to-door testing – as well as to support people self-isolating.
"There are sensible public health precautions people can take as individuals in line with the sorts of advice we have all been following throughout the pandemic," the councils said.
'Major communications error'
Greater Manchester's Labour mayor Andy Burnham said the confusion over the advice was a "major communications error" which had a "major effect on people's lives".
Norma Redfearn, Labour mayor of North Tyneside, said "after a day of confusion" it had been confirmed the area was "at the same stage of the road map as the rest of the country".
Labour's shadow health secretary Jonathan Ashworth said the messaging had been "completely contradictory" at a time "when clarity is everything".
He said: "If you've got a holiday booked for half term next week, does the government want you to cancel it or not? If you've got a wedding organised, do you have to cancel your wedding now?"
Bolton Council's Conservative leader David Greenhalgh said there had been a "fear" the town would be singled out for a local lockdown.
He said: "As long as they follow the guidance I don't believe residents in Bolton should be cancelling holidays."
Meanwhile, the UK reported 15 new deaths within 28 days of a positive test and 2,493 new confirmed cases. Tuesday's figures for reported deaths are sometimes higher due to weekend reporting delays.
Meet outside rather than inside where possible
Keep 2m apart from people who you do not live with (unless you have formed a support bubble with them), this includes friends and family you don't live with
Avoid travelling in and out of affected areas unless it is essential, for example for work (if you cannot work from home) or education
It was first published on 14 May to cover Bolton, Blackburn with Darwen and Bedford, before being updated to include the six other areas on Friday.
"Why put out advice, then tell people they don't have to follow it? Surely these restrictions are needed or they are not?" he said.
Following a meeting with government officials, some of the local councils said they hoped the advice would be withdrawn.
Wendy Burke, director of public health for North Tyneside Council, told BBC Radio Newcastle "we think it would be helpful if it was removed", adding that it was "very, very confusing".