The French government says older people with pre-existing conditions can now get AstraZeneca's Covid-19 vaccine, revising its stance on the issue.
"People affected by co-morbidities can be vaccinated with AstraZeneca, including those aged between 65 and 74," the health minister said.
Last month France approved use of the vaccine for under-65s only, citing lack of data for older people.
The EU drugs regulator has approved it for all adults, but it is up to each member to set its own roll-out policy.
In a further development, Canada's immunisation commission on Monday advised against giving the AstraZeneca vaccine to over-65s, saying clinical trial data for that age group was too limited.
What are the French saying?
Speaking on television, French Health Minister Olivier Véran said people with pre-existing conditions – such as high blood pressure or diabetes – could get the Oxford-AstraZeneca vaccine from GP surgeries, hospitals and "within days" from pharmacies.
The policy would apply to those over 50, including those aged 65 to 75, he said.
Those aged over 75 will still be offered either Pfizer or Moderna jabs in a vaccination centre, he added.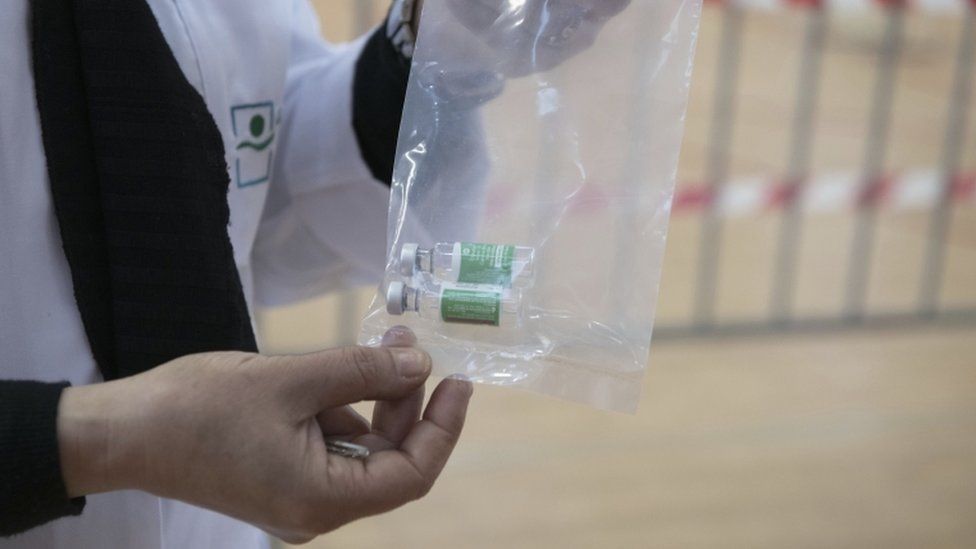 In January French President Emmanuel Macron said the AstraZeneca vaccine was "quasi-ineffective" for older age groups – a claim strongly rejected at the time by the UK officials and scientists.
But after a European Council meeting on Friday, he said: "If this is the vaccine I'm offered, obviously I would take it."
As more data has emerged, French health officials have tried to convince people that it is just as safe and effective as other Covid-19 vaccines.
Just 273,000 AstraZeneca doses have been administered in France out of 1.7 million received by the end of February, health ministry figures show.
The MG France doctors' association has since hit back at criticism of the AstraZeneca jab and the fact that many doses remain unused. The man in charge of France's vaccine rollout has also backed it, saying it has unfairly received a "bad press".



The world has been closely watching the UK's vaccine rollout. Britain has vaccinated more of its population than many other countries and has taken bold, pragmatic decisions about who to offer shots to and when.
Some EU states were reluctant to use the Oxford-AstraZeneca vaccine in very elderly people because there was little trial data to show how well it worked for this age group, compared to other vaccines such as the Pfizer jab.
The UK, however, reasoned it was highly likely it would be beneficial and it was better to vaccinate as many vulnerable people as quickly as possible. And now real life data suggests that educated judgement has paid off.
According to results so far from the vaccination programme, the shot is cutting the chance of people aged 80 and over from getting very sick with coronavirus and needing hospital care by more than 80%, just a few weeks after a first dose.
England's deputy chief medical officer – Prof Jonathan Van-Tam – said the findings were a clear vindication of the UK's strategy and that other countries would doubtless be very interested too.
Every nation is in a race against the virus and vaccines offer a real hope of getting ahead.


France is still struggling to control increased infection rates in some areas, despite a continuing national night-time curfew.
Bars, restaurants and museums remain closed but the government wants to avoid another national lockdown, resorting instead to tighter measures in some localities such as the southern city of Nice.
Travel to Germany from the French Moselle region has been restricted at the request of Germany which is concerned about the South African variant. Cross-border public transport is suspended, while drivers can cross but only with proof of a negative coronavirus test.
What is the situation in Germany?
Germany is also concerned that AstraZeneca jabs are going to waste and there are calls to widen the number of priority groups who can receive it. Only 240,000 of 1.45 million doses had been used by 23 February.
Germany's vaccine commission is currently reviewing its recommendation and Chancellor Angela Merkel said last week that it was "a vaccine that can be trusted".
Vaccine roll-outs in many EU countries have been hit by delays.
What do we know about the vaccine?
Britain has been using the vaccine made by AstraZeneca, a UK-Swedish pharmaceutical firm, in its mass immunisation programme since December.
UK health officials say it provides "high levels of protection" for all ages.
No one who received the Oxford vaccine in trials was admitted to hospital or became seriously ill due to Covid.
The vaccine is given via two injections to the arm, the second between 4 and 12 weeks after the first.