Boris Johnson has said he is "anxious" about the Indian variant of Covid and is "ruling nothing out" to tackle it.
Asked specifically whether surge vaccinations could be introduced, a No 10 spokesman said ministers "want to consider all options".
This would mean focusing extra doses of vaccine in specific areas to immunise a larger section of the population, and reduce the spread of variants.
Government scientific advisers are meeting to discuss the Indian variant.
On Thursday, the UK reported another 11 deaths within 28 days of a positive test and a further 2,657 coronavirus cases.
'Nothing ruled out'
Speaking earlier at a primary school in Ferryhill, County Durham, the prime minister did not rule out reintroducing regional restrictions.
"It is a variant of concern, we are anxious about it," he said.
Asked if local lockdowns were possible, Mr Johnson said: "There are a range of things we could do, we want to make sure we grip it.
"Obviously there's surge testing, there's surge tracing.
"If we have to do other things, then of course the public would want us to rule nothing out."
But he added there was no evidence to suggest England's planned lockdown easing could not go ahead.
Asked separately whether surge vaccinations could accompany surge testing in areas that have seen spikes of variants, a No 10 spokesman said: "We want to make sure that we keep the public safe and keep our roadmap on track."
He added the government would consider any updates provided by Sage on the Indian variant and its spread in the UK.


The variant that was first detected in India, which may spread more quickly, is causing mounting concern.
Numbers are relatively low, but they are rising and the planned unlocking from Monday in England would accelerate that spread.
Meanwhile, the hugely successful vaccination campaign is not yet complete.
So the worry is there is still the possibility of a surge in cases and, because the vaccines are not perfect, a rise in the numbers of people in hospital. This would be much smaller than it would have been without vaccination.
The other issue is the number of confirmed cases tells us what happened between one and two weeks ago, rather than what is happening now. That's because there is a delay between someone catching the virus, it causing symptoms and then being confirmed as B.1.617.2.
One of the four tests for the roadmap out of lockdown has always been the role of new variants.
The key question is whether local approaches in variant hotspots – such as expanded testing and vaccination – would be enough, or if there needs to be a change to the overall plan.


The India variant – officially called B.1.617.2 – is one of four mutated versions of coronavirus which have been designated as being "of concern" by UK public health bodies, with others first being identified in Kent, South Africa and Brazil.
Experts believe the Indian variant has mutations that may make it more transmissible, but it is not yet known if it causes more severe disease or if it might make current vaccines less effective.
Prof Robert Dingwall, a scientist on the government's New and Emerging Respiratory Virus Threats Advisory Group (Nervtag), said it seemed people who have been vaccinated "have only a very low risk of infection" from the Indian variant – and infection was "likely to be mild".
He said it "seems to be slightly more transmissible" than the UK and South African variants and could become the dominant variant in the UK.
"The consequence of this would be a greater number of mild illnesses with little risk of a surge in hospitalisations or deaths," he said.
"We need to stop panicking about every new variant that comes along," he added.
Extra clinics will open in Blackburn and Darwen in Lancashire from next week to offer the vaccine to those who are eligible under national guidelines.
It was earlier reported that additional doses had been given to these areas in order to open up jab appointments to all over-18s – but the council now says that is not the case.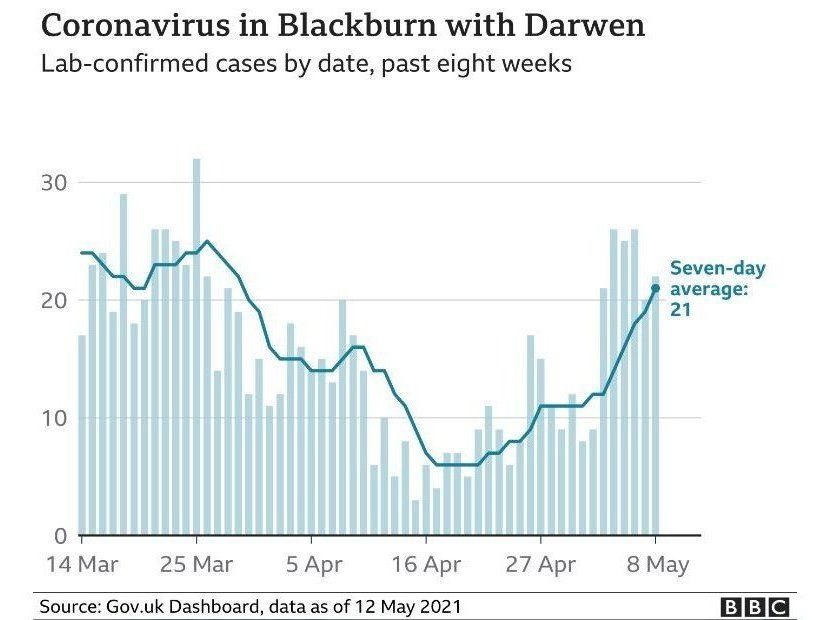 Sources told the BBC surge testing in areas where the variant has been found "isn't working".
The current strategy was identifying cases but not stopping the spread, they told the BBC.
The sources added cases of the variant were being seen in many places with no links to travel and case numbers had been "grossly underestimated".
The BBC's senior political reporter Matt Cole said sources told him England was still expected to move to stage three of the roadmap out of lockdown on Monday, and the PM is thought to have signed off some reduction in social distancing measures – but a politically difficult rethink may now be under consideration.
Questions are also being raised about the potential need to delay stage four, due on 21 June, when the government hoped to remove all legal limits on social contact.
Senior Tory Steve Baker, deputy chairman of the Covid Recovery Group of MPs, warned against any further lockdown measures, asking: "Why on earth would we lock down when the vaccines continue to break the link between cases and hospitalisations and deaths?"
"We were told the road map was cautious – in spite of the overwhelmingly promising data on the benefits of the NHS vaccine rollout – precisely so it would be irreversible," he said.
www.bbc.co.uk