For the past two days, Sanjay Kumar has been trying to get himself and his ageing mother vaccinated against coronavirus in the northern Indian state of Uttar Pradesh.
"I called up three private hospitals in my neighbourhood and all of them said they had run out of doses," says Dr Kumar, a social scientist, who lives in Ghaziabad, on the outskirts of Delhi.
One of them is a 50-bed neighbourhood hospital. "We have zero stock of vaccines and are not taking bookings because people come for jabs and get into fights (when we tell them we have no stocks)," a front office worker said. At another hospital where Dr Kumar unsuccessfully sought a booking, officials said they had run out of doses on Wednesday evening. "We have no other option but to turn people away," an employee said.
As India grapples with a deadly second wave of Covid-19 infections – with an average of more than 90,000 cases daily from 1 April – its vaccination drive appears to be struggling. Half a dozen states are reporting a shortage of doses even as the federal government insists that there's enough in stock.
In the western state of Maharashtra, which is reporting more than half of India's new infections, the inoculation programme appears to be grinding to a halt. The local government says its current stock of 1.5 million doses will last only for three days. Vaccination centres have been shut in the state capital, Mumbai, and parts of Kolhapur, Sangli and Satara districts. "If the vaccines don't come in three days, we will be forced to stop the drive," state Health Minister Rajesh Tope told reporters.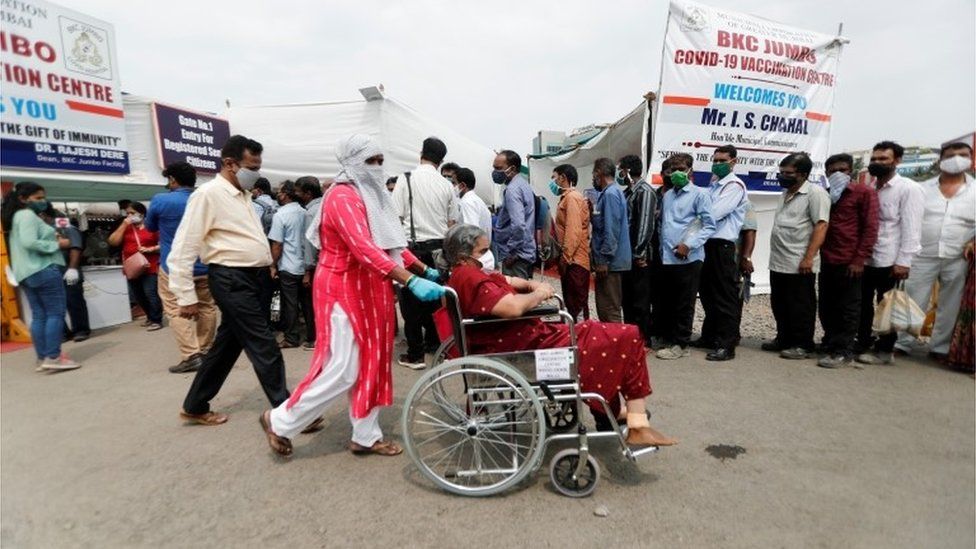 Federal Health Minister Harsh Vardhan says the "allegations" of vaccine scarcity are "utterly baseless" – more than 40 million doses are "in stock or nearing delivery", he claims. He blames states for trying to "divert attention from their poor vaccination efforts by just continuously shifting the goalposts". Mr Vardhan believes the states which are complaining of shortages have not even fully vaccinated their frontline workers.
That may not be entirely true. Vaccine shortages seem to be a reality in some states who have managed to vaccinate quickly, according to Oommen C Kurian of the Observer Research Foundation, a Delhi-based think tank. He told me that the shortage might be triggered by a "mismatch between the claimed production capacity of Indian vaccine makers and the actual produced doses over the last four months or so".
India's vaccination drive, the world's biggest, began on 16 January, and aims to cover 250 million people by July. Initially limited to healthcare workers and frontline staff, it has been since extended in stages to people above 60; those between 45 and 59 who have other illnesses; and those above 45.
More than 90 million doses of two approved vaccines – one developed by AstraZeneca with Oxford University (Covishield) and one by Indian firm Bharat BioTech (Covaxin) – have been given so far. An average of three million jabs are being administered daily. Also, India has so far shipped 64 million doses of vaccines to 85 countries. Some are in form of "gifts", others in line with commercial agreements signed between the vaccine makers and the recipient nations, and the rest under the Covax scheme, which is led by the World Health Organisation (WHO).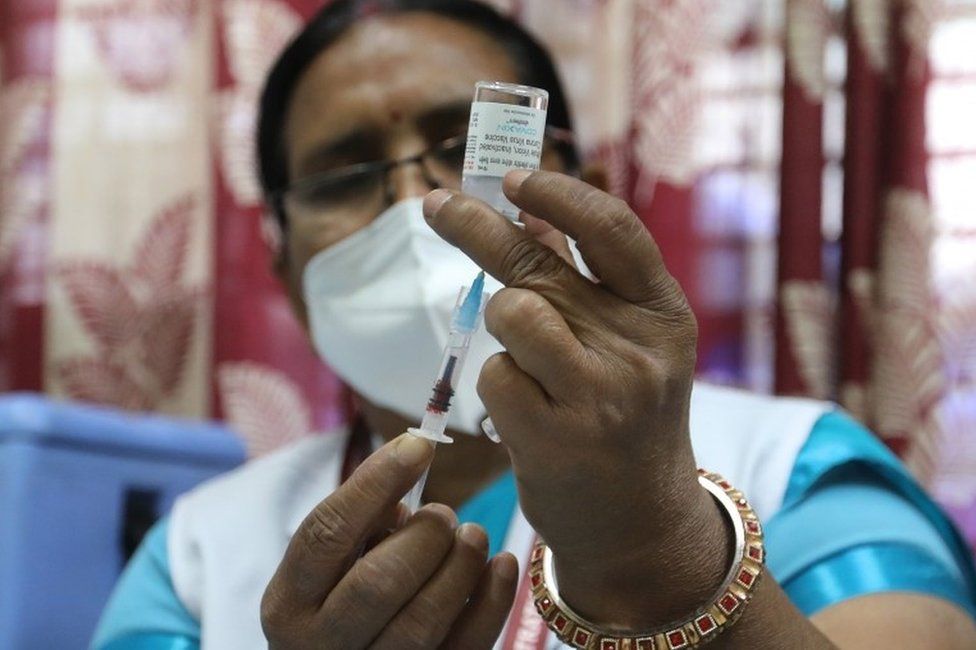 When it comes to vaccine manufacture, India is a powerhouse. It runs a massive immunisation programme, makes 60% of the world's vaccines and is home to half a dozen major manufacturers, including the Serum Institute of India – the largest in the world. But a large-scale adult vaccination programme against a virulent pathogen like SARS-Cov2, the virus that causes Covid-19, is posing unprecedented challenges.
For one, experts say the vaccination drive needs to pick up a lot more pace in order to meet its target. It is not clear whether the country has enough vaccines and state capacity to expand the drive.
The key question, as many have been speculating, is whether India has enough stock of doses to speed up the drive and expand coverage to include the young. Some are wondering whether India did the right thing by sending millions of doses abroad as part of its much hyped "vaccine diplomacy".