"And this is what it's all about: a rainbow in a rock. This is what made me a wally who fell in love with opal."
Trevor Berry is a beefcake of a man with a fulsome, grey beard – the most unlikely looking wally imaginable. But since I know he was once a psychotherapist, I refrain from questioning his self-judgement.
We're crouching, side by side, streaked with pinkish dust, after clambering through a series of tunnels below the remote mining town of Coober Pedy, South Australia. Opal was discovered here 100 years ago this year, and these tunnels, which form Old Timers Mine, were dug by hand a year later. "Pick, shovel, wheelbarrow," Trevor says excitedly. "Imagine!"
What I don't need to imagine is what's still in the walls; Trevor's brought me to a glinting, pearlescent clump of the precious stone which, if mined, would make him hundreds of thousands of Australian dollars.
"That's the rainbow!" he cries. "The more colour there is, the more it costs. Find red and rejoice. What's annoying is that it often looks red, then bugger, you see it's really blue or green."
Opal is an obsession in Coober Pedy, which is why I have to ask Trevor why his find remains untouched. "It's what people want to see," he says. "In essence, we're still mining here, every day, only now the money comes from tourists who are paying to have a look."
This is a wally with a brain. Coober Pedy is a town where the phrase "in the middle of nowhere" is, for once, pretty apt. Alice Springs is 700km north, Adelaide 800km south and there's not much in between. The postie, Peter Rowe, thinks nothing of driving 200km to meet a friend for tea. "I take spare tucker, some water and a fan belt," he says, assuring me he knows how to fit it.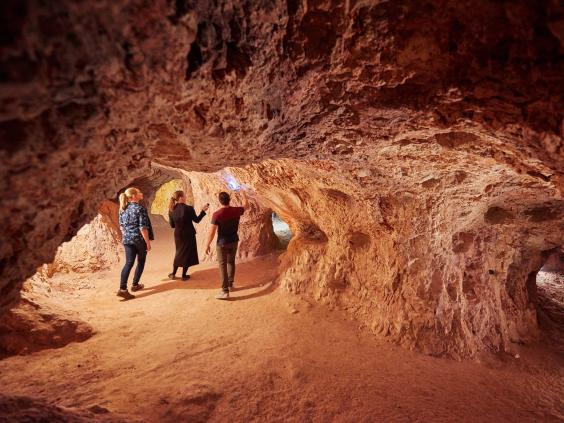 The rubble-strewn landscape is largely flat, except for the occasional orange-stained escarpment, pocked with what appear to be chimney pots. They're actually air shafts serving buildings beneath. Doors are hidden in the sandstone; homes, churches, bars and bookshops are tunnelled into the rock.
Some go down 40 feet, their beautiful barrel-vaulted ceilings created by run-of-the-mill mining machinery. People live in these so-called dugouts to escape the intense heat. It can be 50C in summer but is always 20-25C underground. Apparently the subterranean living didn't seem that odd to men who'd been used to the trenches. Aboriginal people were more surprised, naming the settlement "Kupa piti", or "white man's burrows".
Local resident Christine Henry shows me round her "Flintstone" home: shelves and wardrobes have been chiselled out of the rock; exposed walls with a natural pink hue are covered with varnish to control the dust and damp; I soon forget there are no windows.
"We don't need heaters or air conditioning," Christine says, "although we do have matchsticks, wedged into the walls, to help us keep an eye out for cracks."
Above ground, there are areas where Coober Pedy reminds me of a junkyard full of rusting vans, broken bulldozers and jacked-up cars. It's as if those who abandoned mining also abandoned the environment. But locals disagree.
"We might have old equipment lying around," one argues, "but you never know when you might need it." He points to a couple of old trucks with massive dustbins suspended on rusty poles behind them. "That," he states, "is recycling for you."
My guide, Wayne Borrett, who's also a miner, explains they're "blowers" – a Coober Pedy invention. They suck rubble out of the mine, store it in the bin then dump it, in piles, on the ground. The process sends clouds of dust into the air, hence their name.
"They're really just massive vacuum cleaners," Wayne admits. "But who's going to call  them suckers?"
He shows me the quirkier side of town, beginning at the cemetery. There are some very odd graves; one's fashioned like a castle, another has a beer barrel as a headstone with the words: "Have a drink on me!"
At the golf course, there isn't a patch of green, although signs warn us to keep off the grass. Players carry a square of AstroTurf to help them tee off.
Later, we pass the drive-in. It's where everyone goes on Saturday night; trucks are lined up in the dirt. On a tatty screen, a trailer warns against bringing explosives. Later, a guy at an opal shop explains. A miner once threw his cigarette butt out of his window "and his neighbour exploded".
Today, around 3,000 people live in Coober Pedy, many having come in the Sixties during the second opal rush. Visitors can fly in over the opal fields, or, as of this year, visit with the historic Ghan train on an Expedition trip from Darwin to Adelaide; the train stops at (relatively) nearby Manguri. You're driven into town through miles of bleached, pyramid-shaped mullock, or waste rock, past the odd makeshift blower, its bin raised like an auctioneer's gavel, and massive signs warning of mine shafts.
"It's a lot quieter now," Pete the postie says. "It's not like the good old days when miners would cash such huge cheques that the bank regularly ran out of money. Do you know it used to charter a plane to fly cash in to pay everyone?"
I ask if he ever struck lucky. "I made good money," he says candidly, "and I used it all up."
"It's called opal fever," Wayne says with a smile. "You think tomorrow you'll find that  magic stone – and then you just can't leave."
Source:https://www.independent.co.uk