The pilot of a helicopter which crashed into a pub killing 10 people did not follow emergency protocols after a fuel warning, an investigation has found.
The Air Accidents Investigation Branch (AAIB) has published its report into the Clutha tragedy in Glasgow.
It said fuel transfer pumps were turned off and a controlled landing was not achieved for "unknown reasons".
The report also recommends that all police helicopters be equipped with black box flight recording equipment.
Scotland's Crown Office has now confirmed that a fatal accident inquiry into the crash will be held as soon as possible.
The report into the crash, which took place on 29 November 2013, said:
the fuel pumps were switched off when the helicopter was somewhere between Dalkeith in Midlothian and Bothwell in South Lanarkshire
the first "low fuel" indicator activated somewhere before Bothwell
the audible "low fuel" warning was acknowledged by the pilot five times. Guidelines say he should have landed within 10 minutes, but did not
there were about 32 seconds between the first engine flaming out and the second, but the single engine emergency shutdown checklist was not completed in that time
there was no evidence of any technical malfunction and there was fuel left in the tanks.
First Minister Nicola Sturgeon said it was "deeply disappointing that after two years of investigation the report does not reach a clearer conclusion".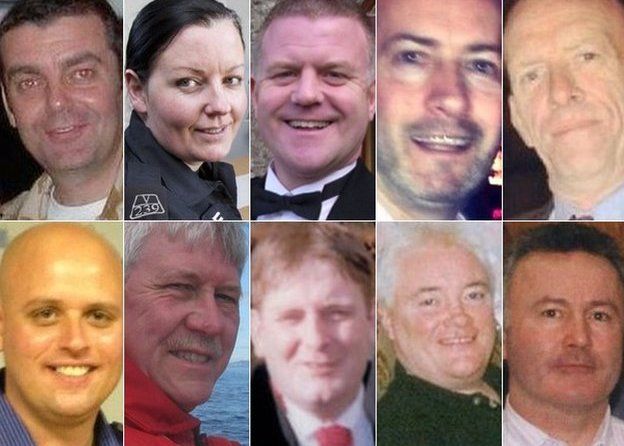 She said that in some respects, the report "seems to raise more questions than it answers".
She added: "I therefore share the disappointment of the families that it does not provide the closure they sought and hope that the FAI that the Crown Office has now said will happen as soon as possible, can help the families get the answers they seek."
'Unanswered' questions
A Crown Office spokesman said: "The report raises a number of questions for which the families of the victims deserve answers.
"The Crown will now conduct further investigations into some of the complex issues raised by the AAIB report.
"We will endeavour to do this as quickly as possible but these matters are challenging and the necessary expertise is restricted to a small number of specialists."
The Police Scotland Eurocopter EC 135 was operated by Bond Air Services, which said: "Today's AAIB report is an important step in the process of understanding the terrible events of that night, although some questions remain unanswered.
"The AAIB has made no specific recommendations for Bond, but we are studying the report and will continue to work with others, including the manufacturer and regulators, to learn from its findings."
The helicopter crew who were killed were pilot David Traill, PC Tony Collins and PC Kirsty Nelis.
Seven customers in the Clutha died. They were John McGarrigle, Mark O'Prey, Gary Arthur, Colin Gibson, Robert Jenkins, Samuel McGhee and Joe Cusker.
Source: https://www.bbc.com