Why go now?
Seeing as a visit to Vegas traditionally means frittering away wads of cash (the house always wins, people), Norwegian's (norwegian.com) launch in October of the UK's cheapest direct flight to Sin City could come in handy. Norwegian has been quietly establishing itself as a surprisingly brilliant budget long-haul airline, and Vegas is the latest addition to its ridiculously cheap transatlantic stable, with one-way fares starting at £179. The route niftily flies on Thursdays and Mondays – perfect for a weekend blowout.
But if you're curious about more than a "big one" on the Strip, it's also a fascinating time to visit the Downtown area, which is shrugging off decades as a prohibitively dodgy neighbourhood to emerge as a hip, cultural alternative to the Strip's bawdy brash and flash.
Get your bearings
Mind-blowing fact alert: it's estimated that around half of visitors never stray from the Strip – the 4.2-mile concentration of famous hotels and casinos on Las Vegas Boulevard – which means they've never actually visited the city of Las Vegas. The Strip, in fact, lies south of the Las Vegas city limits, and within the city of Paradise, Clark County.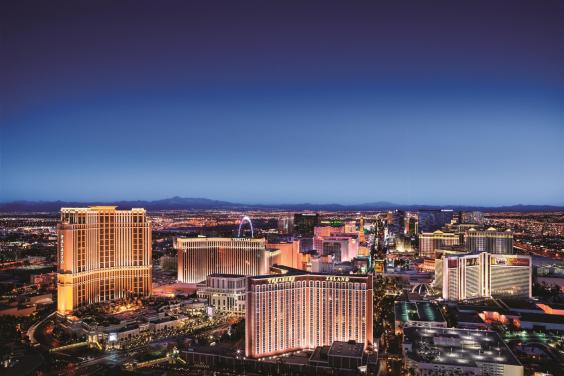 Though many are content to stick to this neon-lit stretch of naughtiness, keep heading north and you'll find the historic centre of the actual Las Vegas around Fremont Street in Downtown. The Arts District, just south-west of Downtown, is also an area of rejuvenation, where a new crop of galleries and arts festivals strive to tempt visitors into the city proper.
For the perfect 48 hours, then, spend a day in each area. We'll start with the must-dos of the Strip and then head into less familiar territory.
Currently £1 = approximately US$1.25.
Day one
Take a hike
As a parched railroad town stranded in the Nevada desert and thirsting for tourism, in 1931 plucky little Las Vegas realised providing a hub for gambling and quickie marriages would do the trick. It's been a magnet for those looking to escape humdrum reality and let loose ever since. To get a good feel for the Strip's hedonistic pull, walking a few miles along this audacious artery provides an instant immersion into its anything goes, alternate universe.
The fantasy land that is Vegas is embodied by its themed hotels; you can take a round-the-world trip in a few paces. Start at the Luxor hotel and casino (1) at the south end, a giant Egyptian pyramid that, at night, shines the world's strongest beam of light into the sky (it can be seen by aircraft at cruising altitude). Walk north past Excalibur (2) (decked out like a medieval castle), which brings you to the Statue of Liberty – or, rather, New York New York (3), a hotel built to resemble a mini Manhattan. Along with the torch-bearing icon, there's a rollercoaster looping around the Empire State and the Chrysler, a teeny Brooklyn Bridge and, adjacent to the casino, a replica of Greenwich Village.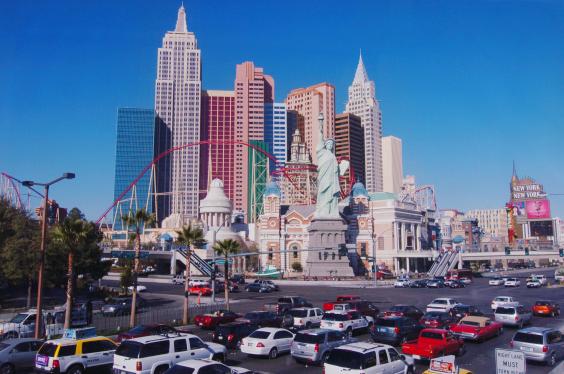 If the hotels weren't boggling enough, the people-watching along this route should entertain – expect the likes of painted naked ladies hustling you to pose for photos, deliriously happy tourists toting half-yards of booze, and silver-painted performers dancing to Enya.
The next big stop is Paris (4) – with its mock Eiffel Tower and Arc de Triomphe – and after that, The Venetian (5), where you'll spot the Rialto Bridge and canals paddled by stripy-T-shirt-clad gondoliers. If there's enough room on your camera roll after this lot, and it happens to be night time, continue on to The Mirage(6). At 8pm and 9pm on Saturdays and Sundays, the ominous beat of jungle drums strikes up, heralding the eruption of the resident volcano.
Lunch on the run
You'll be hard pushed to find an authentic locals' favourite on the Strip, but it's definitely worth dipping into The Venetian (5) to seek out the Southern-style fare at Yardbird. The fried chicken with honey hot sauce and the five-cheese mac and cheese are outstanding; wash it all down with a dangerously gluggable Southern Peach cocktail (with bourbon, Aperol, sweet tea and thyme).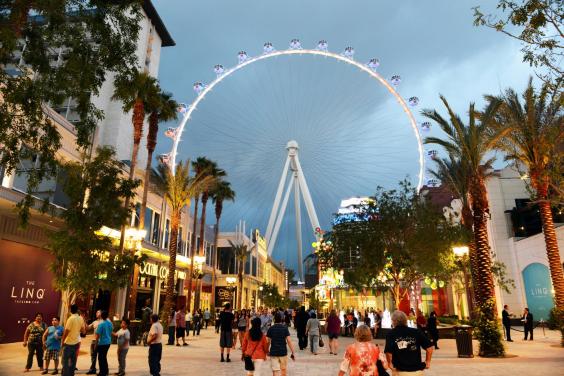 Take a view 
They've nicked the Statue of Liberty and the Eiffel Tower, so why not the London Eye? The 550ft-tall High Roller (7), which opened in 2014, is the world's tallest observation wheel. This being Vegas, you can book the 'Happy Half Hour' option, wherein your pod includes a straight-talkin' bar wench who'll ply you with shots for the rotation's duration. By day, the vista of the red-streaked Spring Mountains that surround the bizarre mirage that is Las Vegas is really quite something.
Just won big? A 15-minute flight over the Strip with Maverick Helicopters (8) gives an unforgettable bird's eye view of the biggest and brightest mega-resorts.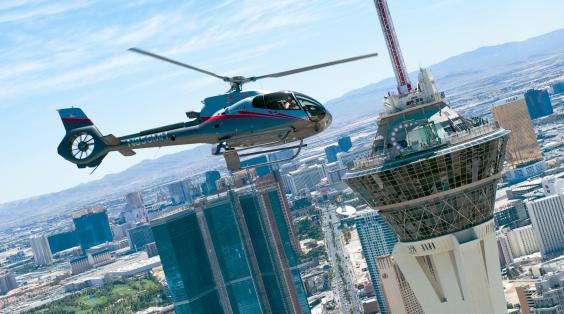 Window shopping
You'll never be stuck for a mall in Vegas, but for 540,000 square feet of bargain designer goods, head to Las Vegas Premium Outlets North (9). Here, brands including Saks Fifth Avenue, Armani and Kate Spade ply their wares at (relatively) affordable prices.
Want something a bit quirkier? Head Downtown to Retro Vegas (10), an antique store selling impossibly cool wares from the city's Fifties heyday – think entire pastel-pink kitchens and vintage dinettes.
An aperitif
If you're gunning for something glamorous, the Skyfall Lounge at the Delano (11) gives the best view of the Strip we've seen anywhere, and mixes a mean espresso martini. Or try The Chandelier bar at The Cosmopolitan (12), a three-floor poser wrapped inside glittering beaded curtains. It's just as ridiculous as it sounds – making it a must-stop – and offers the verbena cocktail with 'buzz button' flower garnish, sure to set your tongue a-tingle.
If you'd rather a laugh with the locals, swerve off-Strip to the Golden Tiki (13), an enjoyably garish, 24-hour tropical paradise serving all manner of "rum"-bunctious concoctions.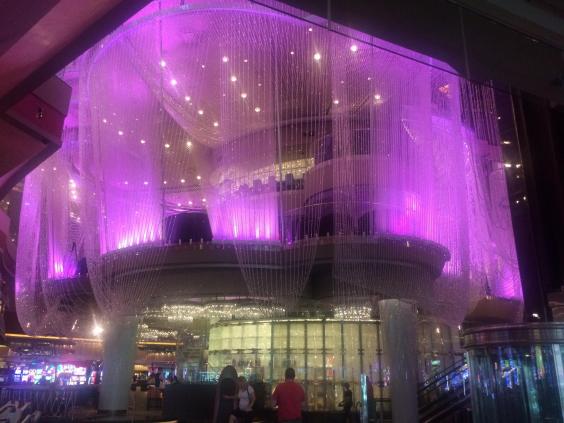 Dine with the locals
The latest outpost of London's high-end Chinese eatery Mr Chow (14) opened in Caesar's Palace late last year. If you're celebrating a big win, this is the spot – with its decadent champagne trolley and outrageous prices, there's no better place to show off. Most interesting is the bizarre, spaceship-esque art installation that springs to life every hour or so – we're told Mr Chow had become obsessed with Close Encounters of the Third Kind when he devised it.
For something more authentic, old-school Vickie's Diner (15), heading north towards Downtown (just past the Stratosphere), is much-loved for its classic red booths and fuss-free, 24-hour food – think corned beef hash with three eggs for $8.95.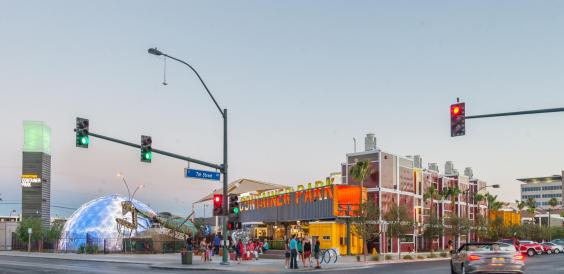 Day two
Sunday morning: out to brunch
Bid farewell to the Strip with great views and even better food at Giada (16), a bright and chic little spot owned by Italian-born Food Network chef Giada De Laurentiis. The bottomless mimosas go great alongside a strawberry polenta waffle with pineapple and Nutella, or if you're more of a savoury bruncher, lobster hash with bacon and eggs.
A walk in the park
Time to head Downtown. For an instant vibe shift, have a wander around the Downtown Container Park (17), a hipster-by-numbers complex of shipping containers offering everything from art and fashion boutiques to upmarket hot dogs and filthy loaded fries at Cheffini's. And hey, it's Vegas, so there's even a wedding chapel. Not to be outdone by the Strip, in the evenings a giant praying mantis sculpture starts dancing to disco music and breathing fire.
Desperate for some actual nature? The Springs Preserve (18), three miles west of Downtown, offers nature walks and a butterfly house.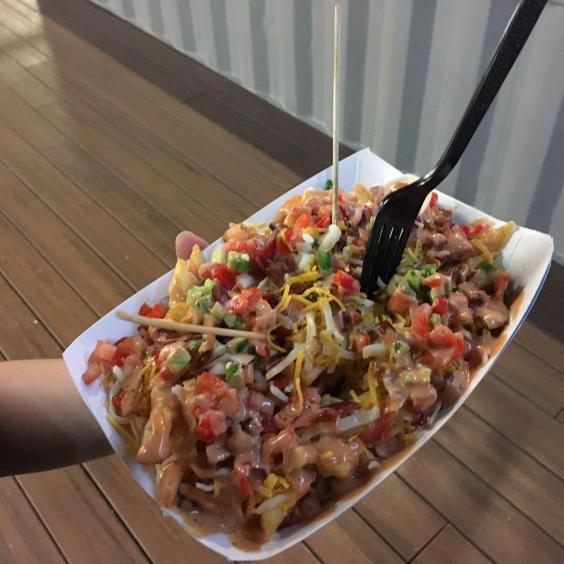 Cultural afternoon
Just five minutes on foot from the container park, housed in the former, 1930s-era Las Vegas Post Office and Courthouse, The Mob Museum (19) is an utterly fascinating – and impressively thorough – account of not only how the mafia ran Vegas in the Thirties and Forties, but the history of organised crime itself. To get the most out of it, you need about three hours. General admission from $23.95.
Find another brilliant bit of Vegas history at the Neon Museum(20), where you'll wander around an outdoor exhibition (the "Neon Boneyard") of more than 200 rescued signs from the city's earliest hotels and casinos. As our guide put it, this is the city's "native art form", and there are loads of little nuggets to learn here – the original sign from Liberace's favourite dry cleaners led to the story of how they would remove all the rhinestones from his outfits before cleaning, and then painstakingly reattach them. Guided tours only, from $19.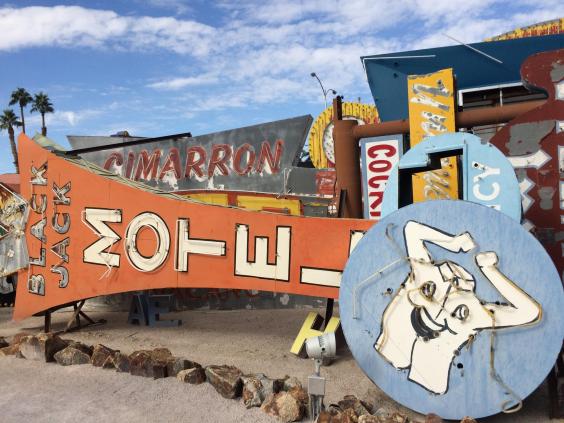 Time for one more? Back towards the Strip in Paradise, the National Atomic Testing Museum (21), admission $22, explores the story of the Nevada Test Site, where nuclear weapons were – and still are – developed. In the early Fifties, the huge mushroom clouds that billowed from the site became a tourist attraction – afterwards, swing by Downtown's Atomic Liquors bar (22), where people would come to watch explosions from the roof while sipping an "atomic cocktail". All red light and black leather, it's enjoyably seedy, and the smoked melon beer cocktail (with mescal and habanero) is a winner.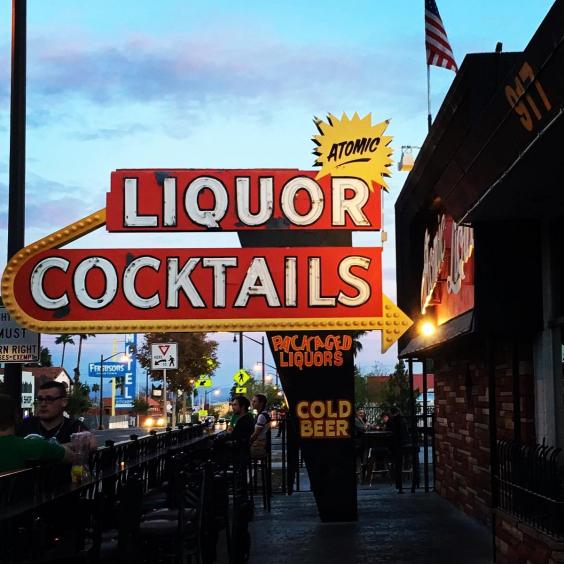 Take a ride
Fremont Street is where Las Vegas started, and today the Fremont Street Experience (23) offers a sort of charmingly downmarket version of the Strip – lined with old-school casinos like the Golden Nugget, "only in America" restaurants such as the Heart Attack Grill (where staff spank you if you fail to finish your ticker-testing meal), and bars selling super-sized cups of beer. The best view of it all is undoubtedly from SlotZilla (24) – a zip-wire ride that takes off from a giant slot machine and, if you opt for the higher, 114ft option, whizzes you along the entire length of the Experience.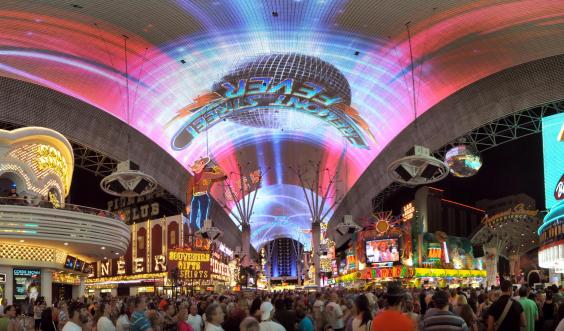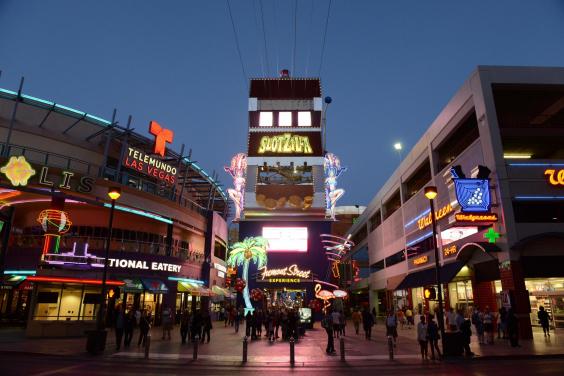 The icing on the cake
This depends on which day you liked most. If the Strip is your thing, find more Las Vegas pizzazz at a show. Cirque du Soleil has seven different themed extravaganzas on the Strip at the moment, or for something more intimate, BAZ at The Venetian (5) is a glittery, musical mash-up of Baz Luhrmann movies.
More into Downtown culture? First Friday in the Arts District (25), on the first Friday of every month, offers free art shows and live music, with food trucks supplying the sustenance. If you want to see more art, take a car south of Paradise to find Seven Magic Mountains (26), a trippy art installation by Swiss artist Ugo Rondinone, where towers of colourful boulders have been stacked in the lonely Nevada desert. Unveiled in May, it will stay put for two years.
Getting there
Touch down is at McCarran airport (27), which is just a 15-minute cab ride from the Strip. According to the Nevada Taxicab Authority, it should cost around $21.95 to reach the Bellagio, which is roughly the mid-point of the Strip. Bus 108 from Terminal 1 runs to Downtown in about half an hour for $2.
The RTCSNV runs the Deuce bus between Fremont Street and Mandalay Bay at the south of the Strip 24/7. Tickets cost $6 for two hours, $8 for 24 hours and $20 for three days. It also operates the SDX bus which, with fewer stops, is a quicker way to get from the Strip to Downtown and also swings by the Arts District. It runs 9am to midnight and fares are the same.
Staying there
Vegas is known for its mega-resorts, so The Cromwell's (28) claim to be a "boutique hotel" should be taken relatively – it has 188 rooms, compared with 3,976 at Caesars Palace. There's a smattering of a decadent Parisian theme – sultry rooms decked out in purple and black – and at around $148 a night (inclusive of tax and resort fee), and smack-bang in the middle of the Strip, it's a deal.
Party poseurs will love The Cosmopolitan (12), which has massive, apartment-style rooms (there's even a microwave for late-night snacking) and great views of the Strip. Milk and cookies at bedtime is a nice touch. Starting rates from $246 per night, including tax and resort fee.
For something more sophisticated, the Mandarin Oriental (29) is without doubt the classiest broad in Vegas. Its Asian-accented, non-gaming environment provides a Zen oasis away from all those bright lights and slot machines, and rooms have floor-to-ceiling windows proffering knockout views – even in the toilet (fret not, there's a sheer modesty blind to keep your bathroom activities private). Rooms from $300 per night, including tax and resort fee.
Read more at BBC.co.uk