Prime Minister David Cameron will vow to tackle "failures of integration" when he unveils a five-year plan to combat home-grown Islamist extremism.
He will argue that the root causes of radicalisation must be tackled and say many people convicted of terrorism are influenced by non-violent extremists.
Home Secretary Theresa May told the BBC the plan would include new legislation.
Counter-extremism group the Quilliam Foundation said the PM would set out a "clear" vision but few new policies.
'Cannon fodder'
In his speech in Birmingham, the prime minister will say the country needs "to confront a tragic truth" that there are people born and raised in the UK "who don't really identify with Britain".
"This is what we face: a radical ideology that is not just subversive, but can seem exciting, one that has often sucked people in from non-violence to violence, that is overpowering moderate voices within the debate and which can gain traction because of issues of identity and failures of integration."
Mr Cameron will focus on convincing those tempted to travel to Syria and Iraq not to buy into the supposed "glamour" of fighting for extremist groups like Islamic State.
"You won't be some valued member of a movement. You are cannon fodder for them," he will say. "If you are a boy, they will brainwash you, strap bombs to your body and blow you up. If you are a girl, they will enslave and abuse you."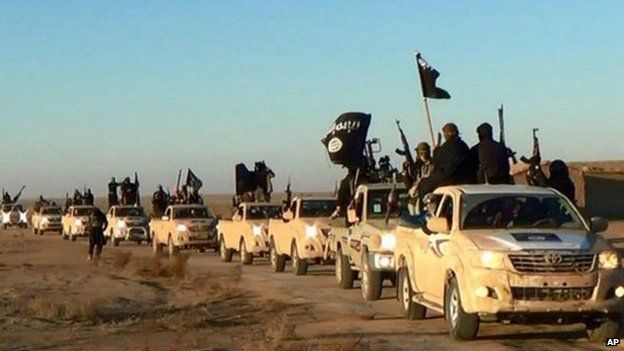 Mrs May said the government would set out a wider counter-extremism strategy later this year which will introduce legislation and also be about "working positively with communities" to promote the values that the UK shares.
She said the strategy being published in the autumn would tackle all forms of extremism, "not just Islamist extremism".
"Part of what we will be doing is legislation but that is only part of it. In the counter-extremism bill that we'll introduce there will be powers to be able to take action against individuals or against groups," she said.
She went on: "We're looking at banning orders – that's for groups – at disruption orders for individuals.
"We're looking at the possibility of being able to have – at varying degrees of strength – taking action against premises which are regularly being used by extremists."
'Robust strategy'
Jonathan Russell, of the Quilliam Foundation, which advised Number 10 on the speech, said Mr Cameron would not announce a "raft of policies".
But he said the prime minister would set out a "clearer strategic direction than ever before" on dealing with non-violent extremism.
Mr Russell said ministers had made similar comments before, but this time it would lead to a "robust strategy".
Mr Cameron will also announce that he has appointed Louise Casey, director general of the government's Troubled Families programme, to lead "a comprehensive review into boosting opportunity and integration to bring Britain together as one nation".

Tracking Britain's jihadists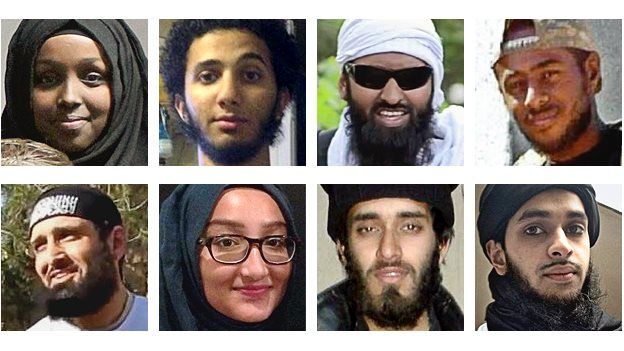 The stories of those who have died, been convicted of offences relating to the Islamic State conflict or are still in Syria or Iraq.

Ismael Lea South, director of the Salam Project, a youth engagement and de-radicalisation initiative based in Brent, north London, said young people were seeing "injustice" and some were going to Syria because they wanted to help "their Muslim brothers and sisters".
"I am not going to be blaming the government because some of the blame does fall on the Muslim community too," he told BBC Radio 5 live.
"There are some Muslim organisations that are getting funding and, with all due respect, a lot of them are very bourgeoisie – a lot of them all they care about is getting funding."
Qari Asim, a senior Imam from Leeds, said some of the language used by the government "plays into the hands of those who want to groom people, those who want to radicalise more people, because it reinforces this common issue, that 'us and them', because that's what extremists want to do".
'Full spectrum'
The speech comes after Mr Cameron pledged a "full spectrum" response after 30 British tourists were killed by a gunman linked to IS in Tunisia.
He has previously warned of the dangers posed by people who "quietly condoned" extremist views.
But he faced criticism for his comments. Former government minister and Conservative peer Baroness Warsi said the government lacked force as it had failed to help Muslims living in the UK, while Labour MP for Bolton South East Yasmin Qureshi said Muslims were tired of constantly being called on to apologise for the actions of extremists.
Police and security services believe at least 700 extremists have travelled to fight with IS militants who have taken control of large parts of Iraq and Syria, with half since returned and posing a domestic terrorist threat.
Talha Asmal, 17, from Dewsbury, is believed to have become Britain's youngest ever suicide bomber when he reportedly blew himself up in Iraq last month.
Mr Cameron has suggested that he could soon seek parliament's approval to extend UK military air strikes from Iraq into Syria, telling a US television network he wanted Britain to "step up and do more" to "destroy this caliphate".
Mrs reiterated the need to take action, but said: "We need to take Parliament with us."
Source: https://www.bbc.com