Ministry of Defence land could be made available to help relieve traffic problems in Kent caused by the migrant crisis in Calais, the BBC understands.
Plans to make land available are in "very early stages", sources suggested, with thousands of lorries still queuing on the M20 due to Channel disruptions.
The backlog has grown as migrants made fresh attempts to enter the tunnel on a fourth night of incidents in Calais.
An emergency Cobra committee meeting is under way, chaired by David Cameron.

Travel latest
M20 closed coast-bound from J8 to J11 for the Operation Stack freight queue
The wait for lorries in the stack is up to five hours to Dover ferry port and three hours to Eurotunnel
Eurotunnel says its passenger services are running, with a delay of one hour 15 minutes on the UK side and one hour on the French side
Freight services face a 90-minute delay before check-in on the UK side; with an estimated more than three-hour wait to check-in in France
DFDS Seaways says all its services are operating to schedule between Dover and Calais.
P&O ferries said services were operating within 20 minutes of schedule.
Eurostar trains are currently experiencing delays of up to one hour.

The prime minister – who has completed a four-day tour of South East Asia – will consider how some 6,000 lorries stacked on the M20 could be moved on to other sites.
On Thursday, he said the UK would not become a "safe haven" for migrants, saying the current situation had been caused by a "swarm" of migrants crossing the Mediterranean and travelling through Europe.

At the scene

Lucy Williamson, BBC correspondent, in Calais
After dark, the nature of Calais' challenge becomes clear. Hundreds of migrants walking together along the highway that leads to the Tunnel site.
To get there they need to cross several fences and avoid security patrols.
Well before midnight, groups of several dozen were struggling under the freshly repaired fencing along Calais' railway line.
Some here have been discouraged by the growing number of police and television cameras. "The mood just doesn't feel right", one man told me.
But their long term goals remain and all the signs are that this week's new challenges – larger groups of migrants, better organised incursions – are becoming Calais's new routine.

Continued disruption
Although sources suggested land could be released for an alternative lorry park to help ease the backlog – as Operation Stack remains in place – they dismissed reports that service personnel were poised to play any significant role.
Potential locations under discussions included the disused Manston Airport, in Kent.
Permanent secretary Mark Sedwill, the most senior civil servant at the Home Office, held a series of meetings in Kent on Thursday.
"Politicians and officials alike know they must both act, and be seen to be taking control," BBC political correspondent Ross Hawkins said.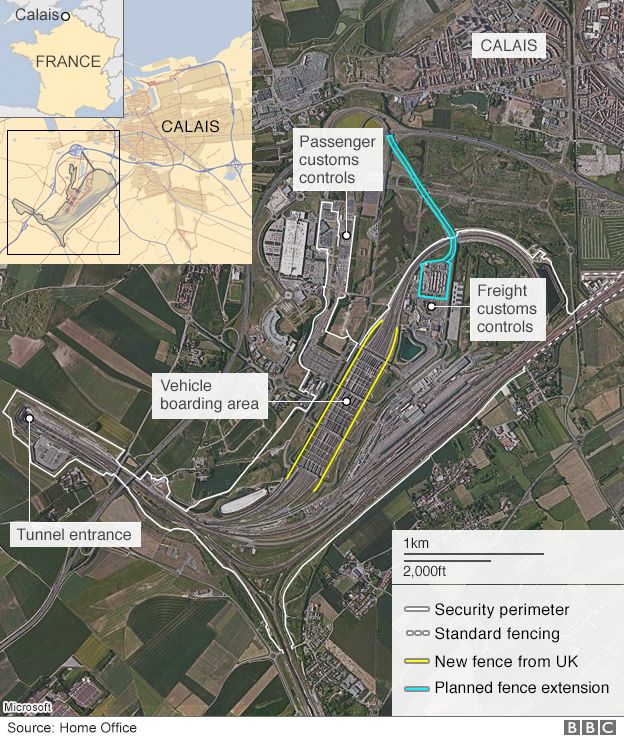 Keith Vaz, the chairman of the home affairs select committee, said the issue was "an EU problem" and would only be resolved by a face-to-face meeting between David Cameron and French president Francois Hollande.
French authorities should deport illegal migrants to their countries, he said.
Thousands of attempts have been made by migrants this week to get into the Channel Tunnel, with people gathering at fencing at its freight terminal in Calais.
On Thursday night, the BBC witnessed hundreds of people push through police lines near the Eurotunnel terminal, before being escorted off the tracks.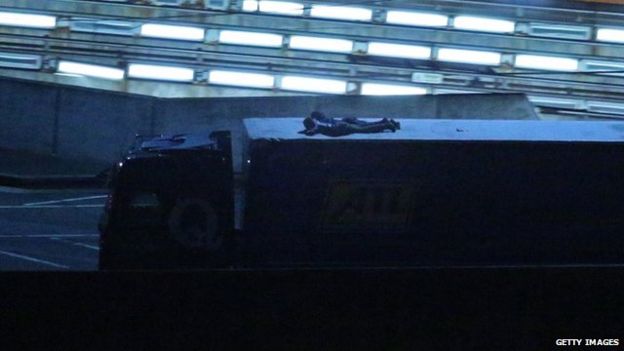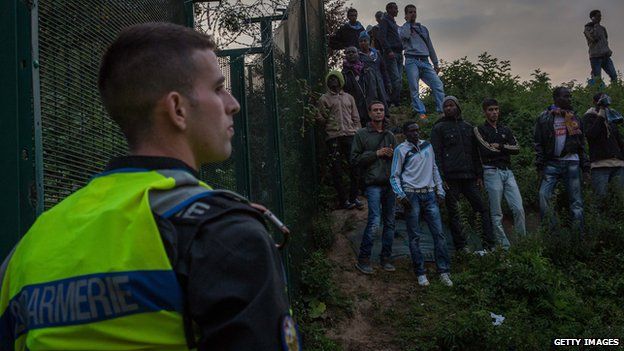 The leader of Kent County Council has met Home Office officials to request support in dealing with the arrival of hundreds of young migrants in Dover.
Paul Carter said a "massive logistical exercise" was under way in Kent, with the surge in the number of migrants arriving set to continue.
In the last three months, the number of under-18 asylum seekers in the care of Kent County Council has nearly doubled to 605.
Mr Carter said the council faced a £5.5m shortfall in covering care costs and it was asking for help "from Theresa May down" to manage the crisis.
On Thursday, police officers from neighbouring forces were deployed to Kent to help with Operation Stack – with the county's police and crime commissioner saying its officers were "exhausted after many weeks of long shifts in difficult conditions".
New fencing supplied by the UK government is being put up on Eurotunnel's French side and is expected to be completed in the coming days.
Eurotunnel said other high-security fencing it was installing around the platforms at its terminal near Calais began working on Thursday.
Source: https://www.bbc.com