Boeing has recommended grounding more than 120 of its 777 jets worldwide following a catastrophic engine failure on a United Airlines plane in Denver.
The company said on Sunday night that airlines using the same type of engine that scattered debris across Denver before making an emergency landing should suspend operations until inspections could be carried out.
Flight 328 was flying from Denver International Airport to Honolulu with 231 passengers and 10 crew on board on Saturday when one engine failed shortly after take-off. Police in Broomfield, Colorado posted photos of pieces of debris from the plane near houses and other buildings. There were no reports of any injuries on the ground or among the passengers.
United Airlines said it was temporarily grounding all 24 of its Boeing 777s on active duty, and Japan's aviation regulator swiftly followed suit, ordering Japan Airlines (JAL) and All Nippon Airways (ANA) to cease flying 777s that use the Pratt & Whitney PW4000 engines while it considered whether to take additional measures. Japan said ANA operated 19 of that kind and JAL operated 13.
The planes are also used by carriers in South Korea. A spokeswoman for South Korea's transport ministry, speaking before Boeing's statement, said it was monitoring the situation but had not yet taken any action. Korean Air Lines said it had 12 of the planes, half of them stored, and it would consult with the manufacturer and regulators and stop flying them to Japan for now.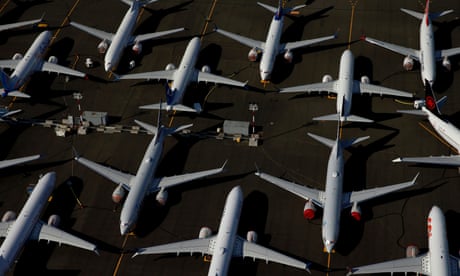 Boeing 737 Max cleared to fly again by EU regulator
Boeing said in total 69 of the planes were in service and 59 were in storage, at a time when airlines have grounded planes due to a plunge in demand associated with the coronavirus pandemic.
The move comes after the US Federal Aviation Administration (FAA) issued an emergency directive late on Sunday that required immediate or stepped-up inspections of planes similar to the one involved in the Denver incident.
"We reviewed all available safety data following yesterday's incident," the FAA said in a statement from its administrator, Steve Dickson . "Based on the initial information, we concluded that the inspection interval should be stepped up for the hollow fan blades that are unique to this model of engine, used solely on Boeing 777 airplanes.
"This will likely mean that some airplanes will be removed from service".
The 777-200s and 777-300s affected are older and less fuel efficient than newer models and most operators are phasing them out of their fleets.
The US National Transportation Safety Board (NTSB) said on Sunday an initial examination of the Denver engine showed two fan blades had become fractured. The voice cockpit and flight data recorders have been taken to a lab in Washington for analysis, it said.
Japan's transport ministry said early on Monday a JAL flight from Naha to Tokyo had to return to the airport on 4 December last year due to a malfunction in the left engine. That plane is the same age as the 26-year-old United Airlines plane involved in Saturday's incident.
www.theguardian.com