The new chief executive of German carmaker BMW, Harald Krüger, collapsed on stage during his presentation at the Frankfurt international motor show.
A planned press conference was cancelled after Krüger, 49, fell to the ground as he was commenting on BMW's latest models during a news conference. He was able to walk and was helped offstage by two assistants.
BMW said over the public address system: "I'm a bit lost for words. BMW will try to redo the press conference at a later stage."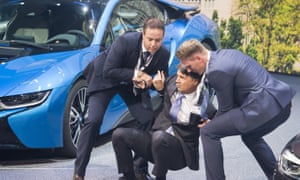 It was Krüger's first appearance at the Frankfurt show as BMW's chief executive. He took over the top job in May.
BMW later told reporters that Krüger has seen a doctor and is recovering well.
The company said Tuesday morning's moment of dizziness follows Krüger's recent trip abroad.
Source: https://www.theguardian.com