From an England perspective, the first Test went not just better than expected but better than they, or their supporters, dared hope. A close match was anticipated, and it ended up a one-horse race. Australia will have left Cardiff stunned and even bemused, as if they had strolled out at night into a less salubrious area with bulging wallets in back pockets, Rolexes on wrists and been surprised that they were mugged.
Darren Lehmann's assertion that it was but "a hiccup" put more spin on the situation than Shane Warne ever did on his leg-break: he will have needed more than drinking water from the wrong side of a cup to get over what was anignominious defeat in which his team were stripped of their facade of invincibility and revealed to be vulnerable after all.
The match wounded Australia severely. For all the bravado that preceded the tour, it looks as if the squad selection was an effort to get one last series out of a team heading past its sell-by date, just as England's was in Australia two winters ago. Already there are some parallels, with the early departure of a key bowler, another struggling with injury (there is only so much cortisone you can pump into a young ankle no matter how desperate Mitchell Starc is to keep playing), and sadly the family circumstances that have meant Brad Haddin, who gets the best wishes of all, has stood down.
The dropping now of what has been seen as a key player, Shane Watson, after an insipid match in Cardiff, would be tacit admission that they got their selection wrong in the first place: it is unusual for Australia to make such calls as quicklyas that.
The excuses for the Cardiff performance are thin. The pace of the pitch, which negated some of the Australian bowlers' threat, was only what they might have expected and after the first stodgy day it played pretty well. If it suited the skiddier bowlers, then the tallest on display was also the best: the Australians got their lengths wrong and were too inconsistent in line.
Additionally, they had had plenty of experience on slower pitches in the Caribbean (where they also bowled with a hybrid of the Duke ball), and in the two warm-up matches at Canterbury and Chelmsford. Michael Clarke, who may not have had the side he would have liked (he is not a selector, as he reminds us ad nauseam; clearly it rankles still) was on the money by saying that they were simply outplayed in all disciplines.
Now comes the caveat. This could go one of two ways henceforth. England are bursting with confidence, in total contrast to their opposition, and are in a position to push home their advantage and win a second time. If they manage that, then it would be hard to see Australia coming back at them. On the other hand the wounded beast, with something to prove, can be dangerous.
However, it is extremely unlikely that Alastair Cook, Trevor Bayliss or Paul Farbrace will allow their players to get ahead of themselves, for these are grounded individuals. Any hint of complacency would be seized on not just by management but by the Australians, and once they get their teeth into things they are difficult to shake off.
The change of personnel in the Australia team will surely only help.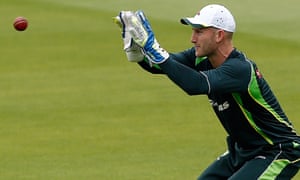 Watson's role as an all-rounder was limited in that he bowled only 13 of 172 overs despite a front-line bowler struggling with injury. He has looked cumbersome and disengaged at times, and is not best buddies with Clarke. His would-be replacement in the team, Mitchell Marsh, has scored runs on the tour, and has the memory of burgling five wickets against England in their World Cup match at the MCG in February: he would be champing at the bit to make an impression.
So too will Haddin's replacement, Peter Nevill, who impressed against England in Sydney before the last series began, and averaged 76 with the bat for New South Wales in the Sheffield Shield last season, including an unbeaten 235 against Tasmania. His ascent now has overtones of the manner in which Ian Healy finally gave way to Adam Gilchrist.
Even two changes such as this can make an enormous difference in terms of enterprise and performance, although Nevill will find that the slope at Lord's can make wicketkeeping tricky at first, with a tendency to get thrown off balance down the slope.
If Starc plays, it will be a big gamble, no matter that the kind of ankle problem he has is not new to him and has been treatable in the past. Few pace bowlers ever go on the field entirely pain-free, but if it is restrictive in any way, even mentally, then his threat will be diminished.
He too will have to get used to the Lord's slope, as will Mitchell Johnson, who has suffered a torrid time at Lord's in the past. Whether Peter Siddle or Pat Cummins would be a better option than an injured Starc is hard to assess. The word is that Siddle, although no less wholehearted than he ever was, is not hitting the bat as hard as once he did, while Cummins, an undoubted young talent, has played only six first-class matches, one of which was a stunning Test debut against South Africa. Starc's potential is always a threat but it may be no more of a gamble to play Cummins.
England have no such problems, with Moeen Ali available despite concerns over a side strain, and they will name an unchanged team for what is a massive match.
Fifteen of the past 17 teams to take a 1-0 lead in an Ashes series have gone on to win. The odds are stacked against Australia now.
Source: https://www.theguardian.com