There is rarely a bad time to visit one of the US's national parks. This, after all, is a country with more than 400 protected enclaves, from the colossal Wrangell-St Elias in Alaska to the tiny David Berger National Memorial – a tribute to the Olympic athlete murdered in Munich in 1972 – in Ohio. But 2016 will be a fine year to enjoy a starred-and-striped hotspot; August marks the 100th birthday of the National Park Service, with festivities taking place throughout the year (nps.gov/subjects/centennial).
Accessible Everglades
Arguably the most famous of America's safeguarded spaces, Grand Canyon National Park (nps.gov/grca) in Arizona needs little introduction – cradling the most spectacular portion of a geological phenomenon which stretches 277 miles long, up to 18 miles wide and up to a mile in depth. President Theodore Roosevelt, visiting in 1903, abandoned statesmanlike rhetoric to say: "The Grand Canyon fills me with awe."
It features on The Trailblazer, an eight-day guided tour of Arizona, Nevada and Utah offered by Trafalgar (0800 533 5619;trafalgar.com). It costs from £1,642pp, excluding flights to the start-point, Las Vegas.
North by north-west
The lower 48 states of the US come to a dramatic north-westerly head in the far corner of Washington, where Olympic National Park (nps.gov/olym) dominates the peninsula of the same name in a blur of mountains, glaciers, rainforest, lonely trails and remote coast.
Ruby Beach is lashed by the Pacific; Mount Olympus, rising to 7,965ft (2,427m), is a majestic rooftop. North America Travel Service (020 7499 7299; northamerica travelservice.co.uk) offers a 14-night Northwest Explorer self-drive road trip which passes through the park – from £2,459pp, including flights, car hire and hotels.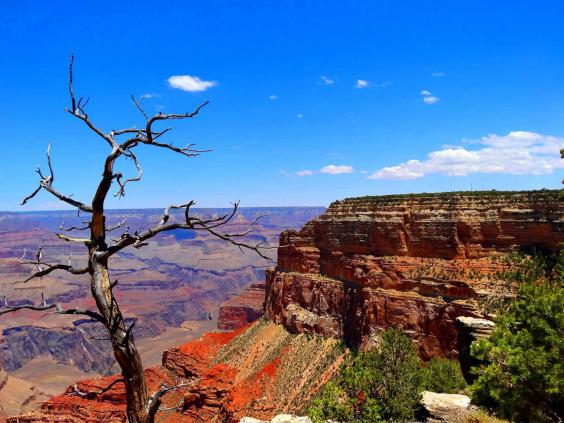 Set in stone
Is there a site more pinned to the American dream than the granite bluff which rears to 5,725ft (1,745m) in the Black Hills of South Dakota, carved with the faces of four fêted US presidents – George Washington, Thomas Jefferson, Theodore Roosevelt and Abraham Lincoln? Certainly, Mount Rushmore National Memorial (nps.gov/moru) is a key stop on any visit to this arid yet intriguing state. It appears on the 15-day Beautiful Badlands & Picture-Perfect National Parks road trip sold by Bon Voyage (0800 316 3012; bon-voyage.co.uk), from £2,455pp, with flights, car hire and accommodation.
Go wild
A journey to a famous US national park does not have to involve endless miles behind the wheel. Everglades National Park (nps.gov/ever) – which ringfences 2,357 square miles of Florida's epic marshland ecosystem – lurks just 40 miles west of Miami.
It is therefore wholly possible to enjoy a day which combines the sands of South Beach with a natural haven where alligators and crocodiles swim, and 350 bird species haunt the skies. A basic Florida fly-drive package of one week's car hire and flights to Miami starts at £612pp through Virgin Holidays (0344 557 4321;virginholidays.co.uk).
Cave in
Small in international reputation but enormous in scale, Mammoth Cave National Park (nps.gov/maca) in southern Kentucky is a real hidden gem. It is the largest known cave system in the world: a vast subterranean limestone maze which encompasses 390 miles of passageways and caverns (with new areas being found every year).
It crops up on the Bourbon, Bluegrass and Blues fly-drive itinerary proffered by America As You Like It (020 8742 8299;americaasyoulikeit.com). The two-week trip costs from £1,260pp, including flights, car hire and room-only accommodation.
Source: https://www.independent.co.uk