A look of horror comes across friends' faces when I tell them the grand plan for my second marathon. Fired up with enthusiasm after triumphantly collapsing over the Virgin London Marathon finish line in April, I was determined not to kick my running shoes off and leave them gathering dust for the rest of eternity, so signed up for another one happening two months later. In the Arctic.
Now, firstly, I should make it clear that I'm not a natural runner. While I feel like a gazelle sprinting gracefully through the streets of London, when I catch my reflection I am hunched like Quasimodo, dragging my feet through puddles and panting a lot.
But what I lack in grace and ability I more than make up for in enthusiasm and nervous energy, which is what I was hoping would pull me through as I stepped off the plane in the Norwegian city of Tromsø two weeks ago for their annualMidnight Sun Marathon.
It's the middle of the night. The sun is shining. There are more than 4,000 runners from 56 countries – 300 from the UK, but others from as far afield as New Zealand, Brazil and China – signed up for either a 10K, a half marathon, or the full 26.2 miles, and making a Lycra-clad invasion on the city whose position 200 miles north of the Arctic circle means the sun doesn't set for a nine-week stretch during the summer.
Most of the city is located on the island of Tromsøya, surrounded by calm waters and spectacularly rugged snow-topped mountains, which – thankfully – we'll be avoiding by following a route that sticks close to the water. But the scenery and terrain is already marking out Tromsø as something of a sports haven, with thePolar Night Half Marathon being held in January and the Sky Race Ultra Marathonin August.
"People don't come here expecting a personal best – it's an experience race," says Nils Haetta, who has been organising the Midnight Sun races ever since they started 26 years ago. But, even after a night spent scoffing lasagne and mingling at a local pasta party, the thought of that PB starts to slip away on race day when there's sightseeing to be done – I took the opportunity to shoot up the cable car on nearby Mount Storsteinen for a bird's-eye view of the race route and visit the city's museums. Not to mention my gung-ho attitude to pre-race nutrition at the hotel buffet breakfast (I have never, and will never, walk past a plate of salmon without tucking in).
After hearing tales of rain and gloomy weather in previous years, spirits are high on the starting line as the 858 marathon runners (with more than 100 first-timers) strip off layers to just T-shirts, jiggling around to the group warmup before an 8.30pm kick off. The route is described as "relatively flat" despite the fact we have to slog over the looming Tromsø Bridge – rising up 50m – twice. With views so great, you can't hate yourself for cracking out a selfie stick and picking up grunted swear words in at least 10 different languages.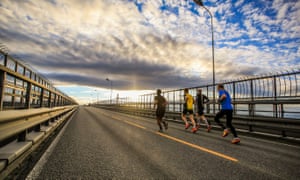 But, with the bridge behind you, every runner suddenly looks pretty perky. Crowds of locals set up picnics along the route to cheer you on and offer a snack of nuts and hot coffee if you need a pick-me-up. We run past the Arctic Cathedral (similar to a miniscule Sydney Opera House), and the Polaria aquarium (a row of five buildings slanted like dominoes). We breathe in the cleanest air, and see scenery so beautiful it makes every single training run at the crack of dawn worth the effort. It's the world's northernmost marathon, but it must be up there with the friendliest and most picturesque, too. I defy anyone to find a prettier route than the final 8-mile plod along the water's edge, or a more enthusiastic crowd on the home stretch than the Norwegians on a bar-lined street at 1am who haven't seen darkness in a month.
Maybe it's because of the sunshine, or maybe it's the scenery, but I even muster enough energy for that final gazelle-like sprint to the finish line.
Flights to Tromsø with SAS start from £72. Entry into the Midnight Sun Marathon starts from 750 krone (£61).
Source: https://www.theguardian.com