Flowers have been laid in memory of the 52 people killed in the 7 July bombings – 10 years to the hour since suicide bombers began the attacks.
Prime Minister David Cameron and London Mayor Boris Johnson were among those who laid wreaths in Hyde Park.
A service will take place at St Paul's Cathedral later, attended by survivors and families of those who died.
A minute's silence will be held during the service and on London's transport network at 11:30 BST.
The bombings of three Tube trains and a bus – carried out by four bombers linked to al-Qaeda and carrying rucksacks of explosives – was the worst single terrorist atrocity on British soil.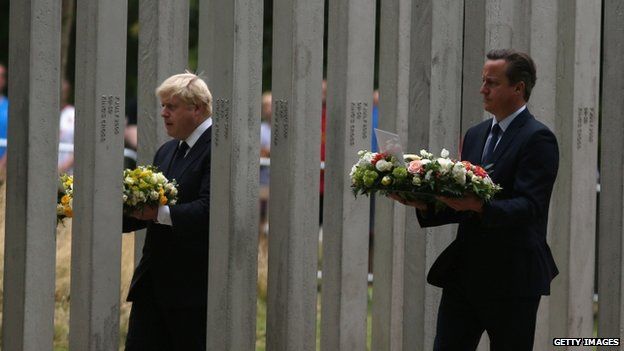 A variety of planned and informal tributes are taking place. So far:
police and fire service officials were among those who laid wreaths at the 7 July Memorial in Hyde Park
survivors have laid flowers at Edgware Road Tube station
flowers have been laid at Tavistock Square, where a bus bomb exploded in 2005
At just after 08:50 on 7 July 2005, three explosions took place on the Underground – 26 people died at Russell Square, six at Edgware Road and seven at Aldgate.
Almost an hour later, a fourth device was set off on a double-decker bus in Tavistock Square, killing 13 people.
The names of the 52 victims will be read out at the national service of commemoration at St Paul's Cathedral, which begins at 11:00 BST.
More than 700 people were also injured in the attacks.
Source: https://www.bbc.com