The straps from my rucksack were digging into my back and my boots were pinching. And as the rutted track under my feet slowly gave way to a boggy path, it dawned on me that after five miles walking in total solitude I would be spending the night in the wilderness very much alone.
This was planned though. I had set out from Blair Atholl two hours earlier into the foothills of the Cairngorm Mountains in north east Scotland with the intention of enjoying a night in one of the 100 remote mountain shelters looked after by the Mountain Bothies Association.
Bothies, mostly small stone huts in remote spots, are little known outside of hiking circles but next month marks 50 years since the foundation of the volunteer-run MBA, which was formed to work with landowners to keep these remote shelters free to use for hikers.
They are often featured in hiking guides, but next month a major BBC Scotland documentary is set to boost their popularity dramatically, prompting concerns from some of the MBA's 4,000 members that a rush of visitors to these remote shelters might ruin their desolate charm. There's even a new book out on Britain's bothies.
"There is a debate at the moment and I've been answering emails from some members saying we are in process of ruining the bothies with too much publicity," said Simon Birch, the head of the MBA. "But personally I think there is room for everybody and to be honest we need the members and the fees to keep the bothies maintained."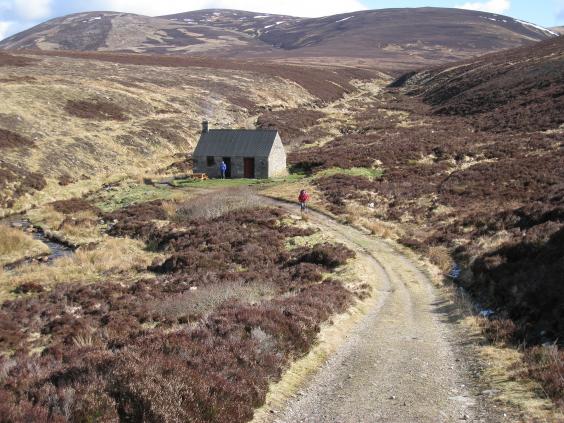 There was no rush of hikers on my way up to the Allt Scheicheachan bothy though, and my only issue was that I had set off too late in the day and the light was fading fast. Thankfully though the weather was fine, one of those glorious Scottish autumn evenings when the midges stay away and the sun sets in golden beams across the heather.
Three deer were watching me silently from a distant ridgeline, and just as I began to doubt my map reading skills my home for the night came into sight around the next hill overlooking Glen Bruar.
Allt Scheicheachan, a stone structure with two rooms, was originally a stable for ponies on the local estate  and was taken on by the MBA in 1974, but little else is known about it. Unlike mountain refuges in Europe bothies in the UK aren't manned.
Mr Birch had recommended I take some single malt whisky to help "break the ice" with any other hikers I find, but alas Allt Scheicheachan was empty aside from two wooden camp beds (you have to sleep on the floor at some bothies), a table a chairs and a tiny fireplace.
Within moments and with the light of a head torch to guide me as darkness set in, I had a fire going (bring your own fuel) and discovered previous visitors had left tea lights, a box of fire lighters and a collection of half-finished booze bottles. Also tucked away in a little box were two condoms for optimistic hikers. The fire-lighters were more useful.
It's all very basic, much the same as when the MBA was founded 50 years ago but I soon got used to the total silence as it became clear I was the only person for miles around. I was totally alone and this bothy at least, wasn't suffering from any boom in popularity.
Mr Birch had told me that you can walk across much of north and west Scotland for days in "splendid isolation" staying a bothy each night, and that certainly seemed the case in the Cairngorm too.
After a night sleeping by the fire the morning's water came from a nearby steam (boil it first) and a trip to lavatory involved the "bothy spade" and a walk up the hill to a secluded spot. There are concerns over this element of "indoor wild camping" though; what to do about the delicate issue of human waste piling up at some more popular bothies.
At Corrour bothy in Aberdeenshire the MBA has already worked with local landowner the National Trust to provide a disposable "bagging system" to deal with the issue, and elsewhere it reminds visitors to "do their business" at least 200m from the bothy and 50m from any streams, lakes or rivers. In the future added Mr Birch it "may have to consider" installing composting lavatories.
After my 200m walk is complete I return to the bothy where as custom dictates I leave an unused log and some matches for the next "guest". I also load my rucksack with all my litter and take a look through the guestbook. There are just 75 entries so far this year and the last visitor before me was a week ago. It seems the five mile hike from the nearest road has kept this place a rarely visited spot. Thankfully, I can't see that changing much.
Source: https://www.independent.co.uk