Bury Tower House, Hampshire
There are no excuses for boredom at this vast, family- and group-friendly Georgian party pad in Gosport harbour. It's walking distance to Stokes Bay Beach, a five-minute ferry ride from Portsmouth and its Historic Dockyard, a 40-minute drive from Peppa Pig World and the New Forest, 30 minutes from the South Downs and within day-trip distance of the Isle of Wight.
• Sleeps 18, £2,500 for New Year week. 07948 512764, buryholidayhomes.co.uk
Kimmeridge Hall, Dorset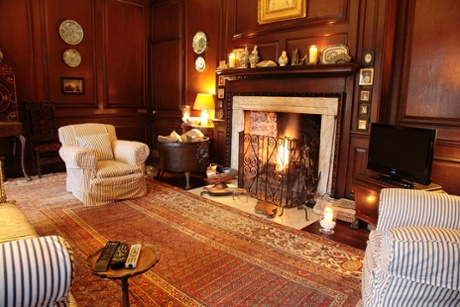 This large manor house close to the Jurassic Coast is hard to beat for traditional country-house style. An oak-panelled, open-fired, antique rug-draped, porcelain-plastered showstopper, it was recently featured in World of Interiors. Owner Philip Mansel, who's a historian and author, has spent years curating its contents and filling what was once a more reserved country residence with colour and imagination. Riverford will deliver organic groceries, but if you don't fancy cooking you can hire a private chef.
• Sleeps 14, £5,100 for five nights or £5,500 for seven over Christmas or New Year. 01242 235151, kateandtoms.com
Venn Farm, Devon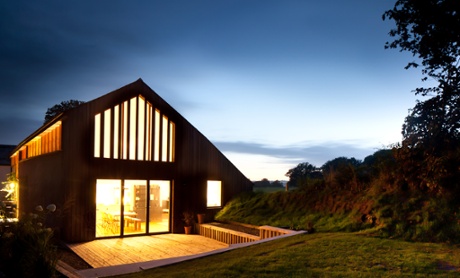 There 's a choice of properties at this contemporary country retreat outside Bude: the family-friendly Cob sleeps nine and the Red Barn sleeps four. Both are bright and indulgent, with sleek bathrooms, underfloor heating and Ren toiletries, and will be gaily decorated for the season. Rentals normally run Friday to Friday but dates are flexible over Christmas and New Year, with a minimum four night stay. Order a turkey from the award-winning butcher and steel yourself for the Bude Christmas Day dip (no wetsuits).
• Four nights £950 at the Red Barn or £1,750 at the Cob; a week is £1,250 at the Red Barn or £2,300 at the Cob. 07968 084317, venn-farm.co.uk
The Tiny House, East Sussex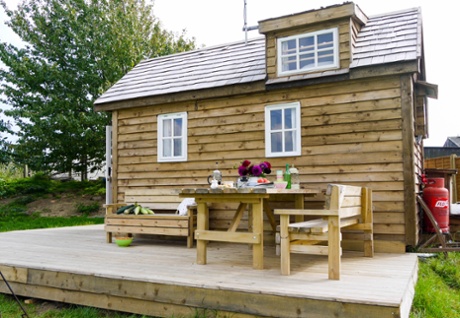 The closest you'll get to sleeping in a gingerbread house in the home counties, this timbered farm cottage is, as the name suggests, pretty compact – just 2.4m wide by 4.5m long. It's off-grid but there's a galley kitchen, sofa and shower room downstairs and a proper bed up a ladder. Order homemade beef stew (£7pp), wrap up warm and have dinner out on the deck. There's also a little dining table inside.
• Sleeps 2, £450 for a week over either Christmas or New Year. 01580 860840, bramleyandteal.co.uk
No 5 Victoria Cottages, Peak District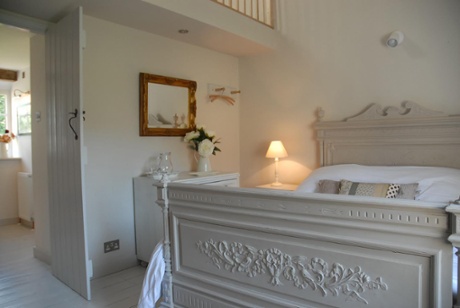 A cosy hideaway for two, this stylishly renovated terraced cottage in the village of Longnor makes a romantic Christmas destination. Upstairs is an antique bed and a rolltop bath. Downstairs, by rug-covered flagstones, is a woodburning stove and a little sofa. There's a tearoom and craft centre in the village, lovely walks in the surrounding hills and dales and you can strike out for more majestic festive entertainment at Chatsworth House, around 30 minutes' drive away.
• Sleeps 2, £470 for Christmas week. 07527 858385, stayatno5.co.uk
Little Cwm Colebatch, Shropshire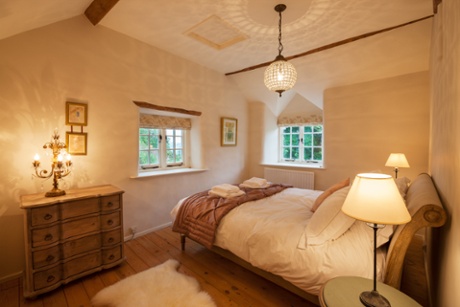 Sheepskin Life specialises in luxury lets in remote locations, and this one lives up to that. A prettily painted farmhouse overlooking a bucolic valley outside Bishop's Castle, it has a well-equipped kitchen (with an Aga as well as modern appliances) and a large fire-lit lounge. There's a separate snug for bookworms or TV addicts to hole up in and, with two bathrooms and four bedrooms (two kingsize beds, two singles), it's ideal for a family with teenage children and one set of grandparents in tow.
• Sleeps 6, £1,735 for Christmas week (+44 . 01865 764087, sheepskinlife.com
The Cuttlefish, Cornwall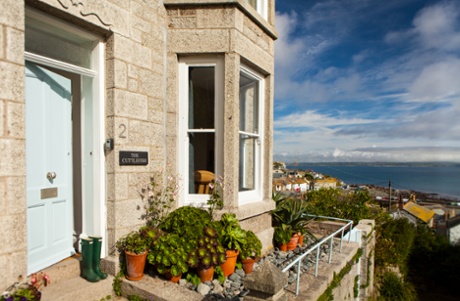 Unusually for the village of Mousehole, this classy new rental property comes with a garden. That's not usually a selling point for a winter break, but this one offers stupendous views of the village rooftops and the coast – and is just the place to toast the New Year as the fireworks pop over the pier. Beautifully designed, in soothing salt, pepper and cinnamon shades, with hi-tech appliances and open fires, it's a grown-up option for two couples (as long as you don't mind sharing a bathroom) but will also suit families.
• Sleeps 4, £2,487 a week for either Christmas or New Year. 01872 553491, boutique-retreats.co.uk
Maison 5, North Yorkshire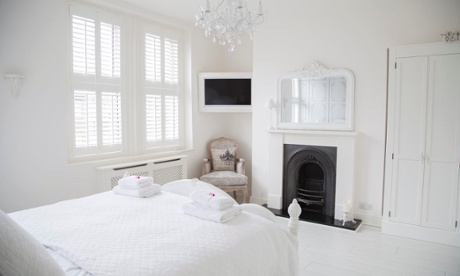 Opned in early 2014, this almost all-white townhouse close to the centre of Harrogate is so icing-sugar pretty that it would be little surprise if the sugar plum fairy pirouetted in. Though children are welcome, parents of little ones would probably fret about all that damageable decor. Like a grown-up doll's house, it's all glinting chandeliers, embroidered lampshades and painted, French-style beds –and so perhaps better suited to a sophisticated hen weekend, or an alternative Christmas for a group of friends, than a family festive break.
• Sleeps 6, from £760 for four nights or £1,250 for seven nights over Christmas. +44 1423 564468, nightspace.co.uk
Low Lodge, County Durham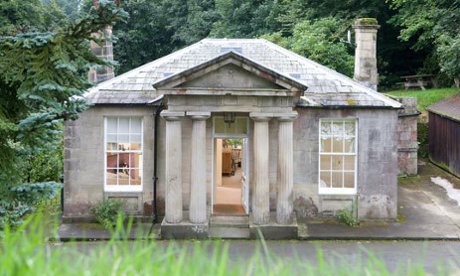 A gate lodge for neighbouring Eggleston Hall, this pint-size property has a grand, Greek revival-style facade but a more modern interior. Comfortable if slightly dated, it's got just what you need for a rustic Christmas à deux, with a cosy sitting room, a small but practical kitchen, a bright bedroom and a dining table with panoramic views. High Force waterfall is 20 minutes' drive away, and the cafe and gift shop at Eggleston Hall stay open until Christmas Eve should you need any last-minute presents.
• Sleeps 2, £586 for Christmas week or New Year week. 01638 674756, statelyholidaycottages.co.uk
SCOTLAND
Sweeney's Bothy, Eigg, Inner Hebrides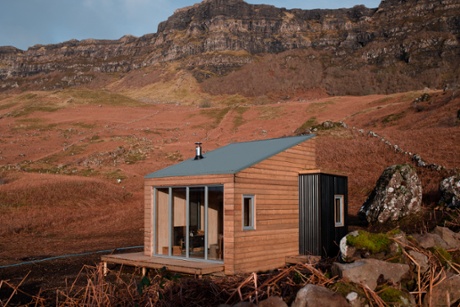 This den-like hideaway is part of the Bothy Project, which lets out unique architectural spaces as holiday cottages when they're not being used by visiting artists. Bed, stove and tiny kitchen provide simple comfort; outside there's a shower and a compost loo with a stupendous view. Eigg has one of the most vibrant communities in the country – book in for Hogmanay and if you don't find yourself stripping the willow at an effervescent island ceilidh, I'll eat my kilt.
• Sleeps 2, £500 for a week at Christmas or New Year, though shorter stays are negotiable from £80 a night. 01687 482414, eiggtime.com
Duchray Castle, Stirlingshire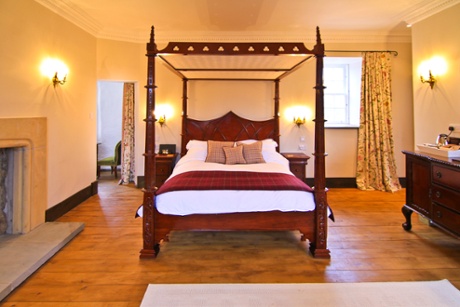 It's not a budget option, but if you want the full festive Caledonian castle experience, or even a last-minute winter wedding, this pile near Aberfoyle comes with a muckle of it. The panelled great hall comes with a Christmas tree; spiral staircases lead to bedrooms made cosy with woodburning stoves. History runs deep: Rob Roy is said to have escaped a party of Redcoats here with the help of the castle's owners.
• Sleeps 8-10, £4,500 for a week over Christmas or New Year. 01877 382966, duchraycastle.com
Red Kite Eco Bothy, Dumfries & Galloway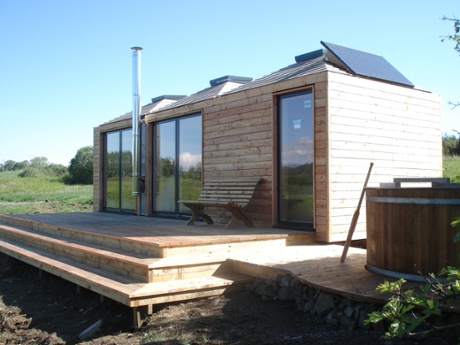 One of two simple timber cabins (albeit with high-thread-count linen and a wood-fired hot tub) in this green and untrammelled slice of Scotland, Red Kite is available over Christmas week. With two bedrooms, it's ideal for a party of four, but a double sofa bed if you want to squeeze two more in. For £20 extra you can bring your hound along too.
• Sleeps 6, £730 a week. 01556 502011, lochkenecobothies.co.uk
Inshriach House, the Cairngorms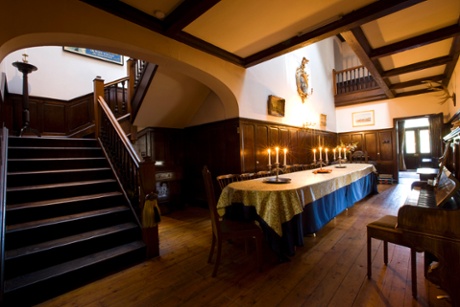 Unlikely though it sounds, this elegant Edwardian country house was recently described by arty website Vice as a "hipster Narnia", thanks to young owner Walter and his team of Good Life-style helpers. But don't let that put you off. The building is beautifully styled and packed with atmosphere and period features, and renaissance man Walter can sort out with anything from a private chef to yoga or a night in the estate's gin bar, which is housed in a salvaged shed.
• Sleeps 17, £2,800 for 22-26 December. 01540 651341, inshriachhouse.com
Cape Cove, Argyll & Bute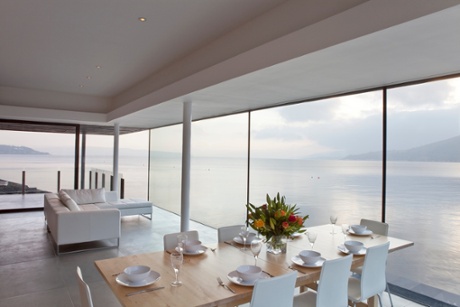 A modernist beach house balanced on rocks over Loch Long, this high-spec rental feels more like an LA crashpad than a crofter's cottage. There's a cedar hot tub, state-of-the-art kitchen and bathrooms and woodburning stove, but staying here is really all about the views, and the direct access to a private beach and jetty.
• Sleeps 10, £2,600 for Christmas week. 01738 451610, cottages-and-castles.co.uk
Druidaig Lodge, Kyle of Lochalsh, the Highlands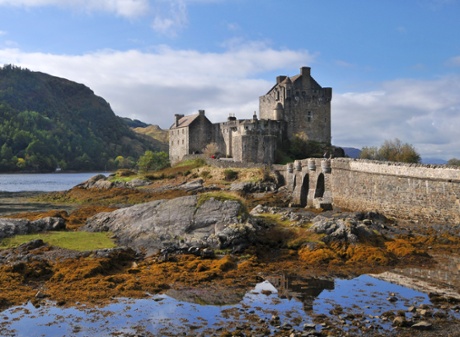 On the shores of Loch Alsh, in five acres of garden, this Edwardian holiday house is grander than the description suggests, though not so grand you need a map to find your way around. Open fires, squishy sofas, an Aga and pine-panelled bathrooms give the house a homely feel. While a snooker room and several single and twin beds hint at parties of friends, it's also family-friendly, with bunk beds and a sitting room with piano that lends itself well to sociable gatherings.
• Sleeps 17, £2,530 for Christmas week, £2,780 for a week over New Year. 01381 610496, lhhscotland.com
WALES
Escape Cottage, Conwy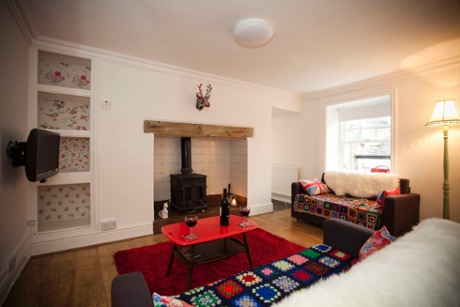 Sister property to nearby stylish B&B Escape, this cosy seaside cottage is sprinkled with cheer all year round: beds are draped with colourful Welsh blankets, a woodburning stove is set against pretty ceramic tiles, furniture is painted apple green and cherry red and cupboards are lined with rose-patterned paper. Minutes from Llandudno's beach and close to the Great Orme headland, it's great for blustery hikes too.
• Sleeps 4, £595 for Christmas week. 07958 581442, holidaylettings.co.uk
Church Cottage, Gower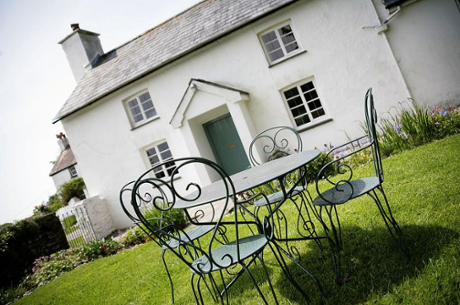 Boxes of chocolates don't have cottages on them these days, but if they did, this two-bedroom former clockmaker's house would be a contender. The oldest cottage on Penrice Castle estate, it's snug rather than showy, with pretty kitchen tiles, Welsh tapestry blankets and a downstairs bathroom. An open fire in the dining hall makes for an atmospheric Christmas dinner; on New Year's Eve treat yourself to crispy cockles and rack of saltmarsh lamb at the beachside Coalhouse restaurant.
• Sleeps 4. Christmas week £890, New Year week £880. 01792 391212, penricecastle.co.uk
Glanafon Coach House, Pembrokeshire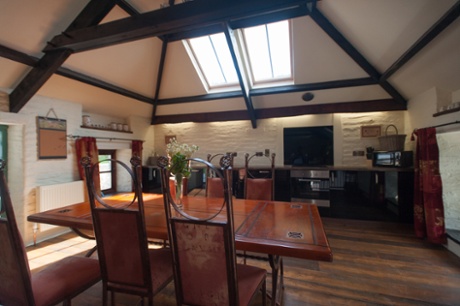 Children will love the quirkybunk beds made from old horse stalls at this upsidedown Haverfordwestretreat built in the 19th century for the adjacent manor house, it's now a comfortable holiday home. Downstairs are bedrooms and bathrooms for four adults and four children; upstairs is an open-plan lounge, dining room and kitchen. There are 24 acres of wooded grounds and it's a good base for exploring the Pembrokeshire coast, history and hills.
• Sleeps 8, £1,300 for a week over Christmas or New Year. 01437 779344, glanafoncoachhouse.co.uk
Alpine Apartments, Betws-y-Coed, Snowdonia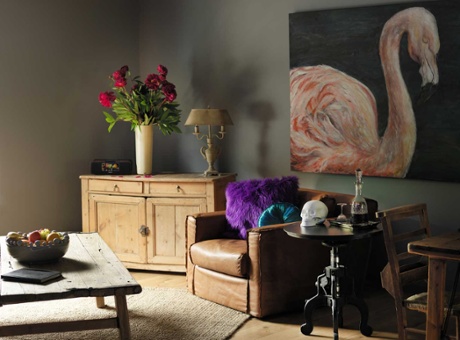 Designed by painter and photographer Jacha Potgieter in an old railway station, these three apartments have hand-built kitchens, original artwork and eclectic furnishings. Rent them all (available New Year week only) and you can sleep 14 with a smidgin more privacy than in a shared property.
• £450 for either week for two people, £900 for either week for six or £2,250 for New Year week for 14. 01690 733796, betwsaccommodation.co.uk
Treowen, Monmouthshire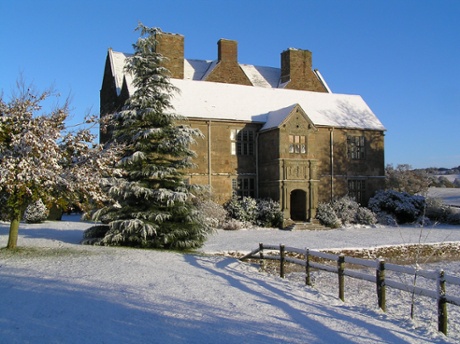 There aren't many self-catering properties that cater for seriously extended families but this 17th-century pile manages it. With 12 bedrooms, seven bathrooms and a stable of camp beds, it could sleep almost the entire cast of the 12 Days of Christmas. Inside are open fires, a banqueting hall and an oak-panelled party room. It's well placed for crisp walks around Tintern Abbey and Raglan Castle.
• Sleeps 35, £5,560 for Christmas week. 01600 712031, thebigdomain.com
All places had availability as we went to press
Read more: https://www.theguardian.com/travel/2014/oct/18/20-houses-rent-christmas-new-year-england-scotland-wales