.
Mykonos, Greece's most glamorous island, shines like whitewashed paradise right in the heart of the Aegean Sea. The island was named after its first ruler and local "Mykonos" who according to the legend was the son of Apollo, the god of light.
.
Mykonos is a place where glamour and simplicity mix together creating a unique combination for one to experience a perfect holiday. It offers every kind of entertainment one can ask for, whether it is relaxing all day long on the beach, enjoying the intense nightlife Mykonos has to offer or simply exploring the islands rich history and tradition.
.
.
.
Location
.
Only 15 minutes away from Chora the bus stops right in front of the Resort. Located on a private peninsula overlooking Platis Yialos, one of the most popular and beautiful beaches of the island and famous for its shallow crystal waters. The view of the bay and the Aegean Sea is simply breathtaking and it makes you feel strongly connected with nature.
The Resorst itself is newly renovated and combines the elements of nature, luxury and perfect service, coming together to form an unforgettable picture.
.
.
.
The Aqua Marine Spa in Mykonos Island
.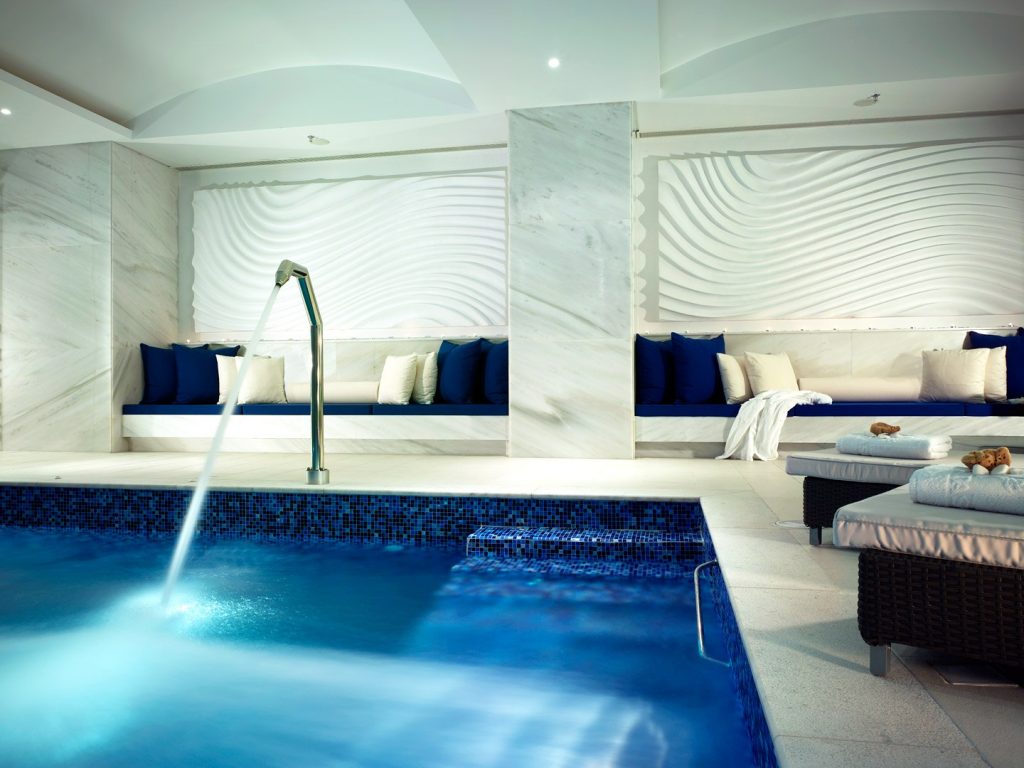 Over half an acre large, the Aqua Marine Spa is located in the new wing of the Petasos Beach Resort & Spa Hotel, the spa centre offers a revitalizing thalassotherapy experience which promotes inner growth and balance.
With over 50 excellent treatments, for singles or couples, and highly professional staff, the spa offers a once in a lifetime trip to pleasure and relaxation.
.
.
.
Rooms & suites
.
Uniquely decorated

Modern and relaxing
The variety of rooms the Resort has to offer is simply enormous. You can choose between many different options, depending on your personal preference and style.
View over the beautiful garden or over the vast sea?
A private balcony, a private pool or maybe a private Jacuzzi?
Whatever you decide this Resort can provide it in the most fashionable way. And for those seeking something out of the ordinary there are also more options. For those whose sports is a way of life, the Fitness Private Pool suite offers exactly this: a private Fitness centre  and a pool.
.
.
.
Services & food
.
The a la carte V.I.P. restaurant in Mykonos, which opens for breakfast and Dinner, combines the magnificent view of the Aegean Sea, a stunning interior and dishes that have a strong note of Asia and Sushi. To lift spirits even further a famous DJ is always selecting the perfect music. Not to forget of course to pair every dish with the appropriate Greek wines the restaurant has to offer.
During lunchtime, one can visit the Le Club restaurant in Mykonos, located in the pool side under a wooden pergola. The modern cuisine strongly influenced from Mediterranean tastes offers a unique culinary experience.
After a sunbathing session a refreshing juice or a tasty cocktail is the perfect opportunity for refreshment. The Pool Bar of the hotel is located in the Le Club restaurant.
.
Adress
Platis Yialos
Mykonos 84600, Greece
Contact us: ds@petasos.gr