Boris Johnson has said he is "not aiming for a no-deal outcome" for Brexit at the launch of his campaign for the Tory leadership.
But he said leaving no deal on the table was a "vital tool of negotiation" and the UK "must do better than the current withdrawal agreement".
"Delay means defeat, delay means Corbyn," he said, saying the UK must leave the EU on 31 October.
But Chancellor Philip Hammond said it was "impossible" to leave by then.
"I think it's not sensible for candidates to box themselves into a corner on this," Mr Hammond told a Bloomberg conference.
"Parliament will not allow a no-deal exit from the EU, and our experience to date has suggested that it may not be that easy to agree a deal in Parliament."
Elsewhere, Home Secretary Sajid Javid – who said he would be prepared to leave without a deal if the alternative was no Brexit – will also make his pitch to MPs on Wednesday.
Scottish Conservative leader Ruth Davidson, who will introduce him at Wednesday's event, said Mr Javid was "the best man for the job", and a "serious man for serious times".
She told the BBC she would not support leaving the EU without a deal, but Mr Javid had the most credible plan to get a deal through Parliament.
"The only way I can see to avoid that [no deal] is to get a deal across the line," she added.
Meanwhile, Labour has tabled a cross-party motion to stop a no-deal Brexit being pushed through by a future prime minister.
It plans to force a vote on Wednesday to give MPs control of the timetable on 25 June, so MPs would be able to introduce legislation to avoid a no-deal scenario.
Mr Johnson and Mr Javid are the last of the 10 candidates in the contest to officially launch their campaigns for the job of Conservative Party leader – and prime minister – ahead of Thursday's first ballot of Tory MPs.

Who will replace Theresa May?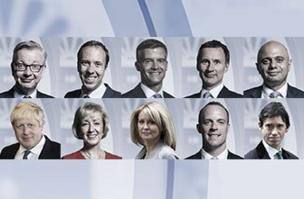 The winner of the contest to lead the Conservative Party will become the next prime minister.

Mr Johnson is regarded as the frontrunner in the contest, with many more endorsements from Tory MPs than any other candidate.
He has kept a low profile in the race to succeed Theresa May so far, his only significant intervention being a pledge – immediately criticised by his rivals – to cut income tax bills for people earning more than £50,000 a year.
At Wednesday's launch, the former foreign secretary – who quit cabinet over Mrs May's Brexit policy – said it was "right for our great country to prepare" for a no-deal outcome.
He said any delay to Brexit would "further alienate not just our natural supporters but anyone who believes that politicians should deliver on their promises".
And he warned his party it would "kick the bucket" if it went into the next election having failed to carry out the mandate given to it by the British people.

Analysis
By Norman Smith, BBC assistant political editor
The speech was classic Boris Johnson – a real pick-me-up performance calling for courage and conviction.
But there was no clarity on what his Brexit plan might be or how he might go about putting together a new deal that the EU would be prepared to negotiate on.
He did say he would keep no deal on the table though, and said it was "astonishing" Theresa May had taken it off.
We did get the character question too – a blunt one about the remark he had made about Muslim women wearing the burka looking like letter boxes.
He knew those questions were coming, and his answer was to say that he was plain speaking, and that people like it when you don't shield everything in carefully calibrated phrases.
It seemed to me that this was a man absolutely not apologising for how he does politics.

Several of Mr Johnson's rivals, including Rory Stewart and Matt Hancock, have said they would not countenance leaving the EU at all without some form of legally-binding agreement on the shape of the future relationship because of the economic disruption it would cause.
Others, including Michael Gove and Mark Harper, have indicated they would be prepared to seek a further extension from the EU to finalise a better deal.
Brexiteers such as Dominic Raab and Esther McVey have said the priority must be honouring the 2016 referendum result and the UK should be prepared to accept no deal – and trade with the EU on World Trade Organization terms if necessary – while it negotiates a future trade deal.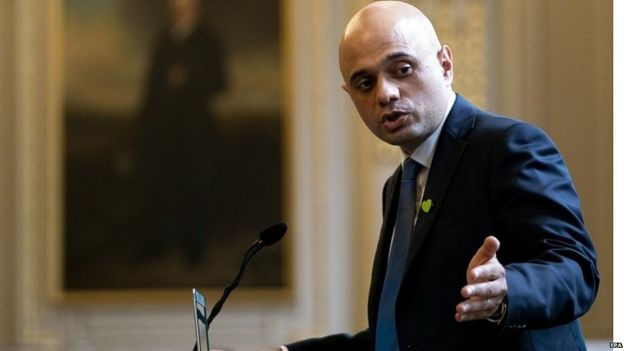 Labour leader Jeremy Corbyn has said a no-deal Brexit would be "disastrous", telling MPs: "I think some of [the PM's] colleagues need reminding of that."
On Labour's motion that aims to stop no deal, Mr Johnson said he understood his colleagues in Parliament "have very strong views", but it would be "very difficult in the end for Parliament to obstruct the will of the people".
He said if their will was blocked there would be "retribution" from the electorate.
'Speaking directly'
Mr Johnson was also pressed by journalists on his use of language – including when he wrote in his Daily Telegraph column that Muslim women wearing the burka looked like "letterboxes".
He said "occasionally some plaster comes off the ceiling as a result of the phrases I use", but told the launch: "I think it is vital that we, as politicians, remember one of the reasons the public feels alienated from [politicians] as a breed.
"[It is because] we are muffling and veiling our language [and] not speaking as we find."
Mr Johnson apologised for "the offence I have caused", but said: "I will continue to speak as directly as I can."
He also appeared to dodge a question asking him about a previous confession that he had taken cocaine while at university.
Mr Johnson said: "I think what most people in this country want us to really focus on in this campaign, if I may say so, is what we can do for them and what our plans are for this great country of ours."
www.bbc.com